Job-sharing through the BigChange Network up 75% in a year
Back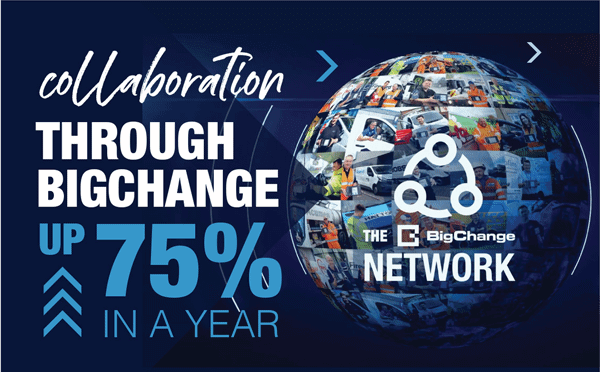 20th October 2020 – The number of companies sharing jobs with partners and subcontractors through BigChange has increased by 75% in the last year, as more organisations in the service sector turned to collaboration to deliver for their customers.
168 companies from industries including construction, facilities management, electrical contracting, logistics and waste management have signed up to join BigChange's Network and use its subcontractor job sharing platform since October 2020.
Almost 400 companies across the UK are now working this way through BigChange, managing more than 12,000 jobs between them each month.
The BigChange Network was launched in April 2019 to make it quicker and easier for organisations to win new business, collaborate with suppliers and contractors, and deliver services more efficiently.
The platform was the first of its kind to allow users to engage subcontractors and allocate jobs to them at the click of a button. It provides partners with all relevant information and access to job sheets on their mobile devices, and completes the loop by providing real-time job updates and a complete online audit trail.
In January 2020, BigChange appointed broadcaster and businesswoman Michelle Dewberry, a former winner of BBC reality television show The Apprentice, as its Network ambassador.
Paul Witter, Network Director at BigChange, comments: "Many of the sectors we serve have made extensive use of partners and subcontractors for decades. Managing this was complex and time-consuming, especially with the mountains of paperwork and compliance involved."
"BigChange's Network and collaboration platform was introduced to make it quicker and easier to manage these relationships and the regulatory burden, and has grown to become a powerful group of like-minded companies which provide each other with access to complementary skills and the ability to scale their operations like never before."
Read Next