How BigChange's job management software provides competitive advantage (with examples)
Back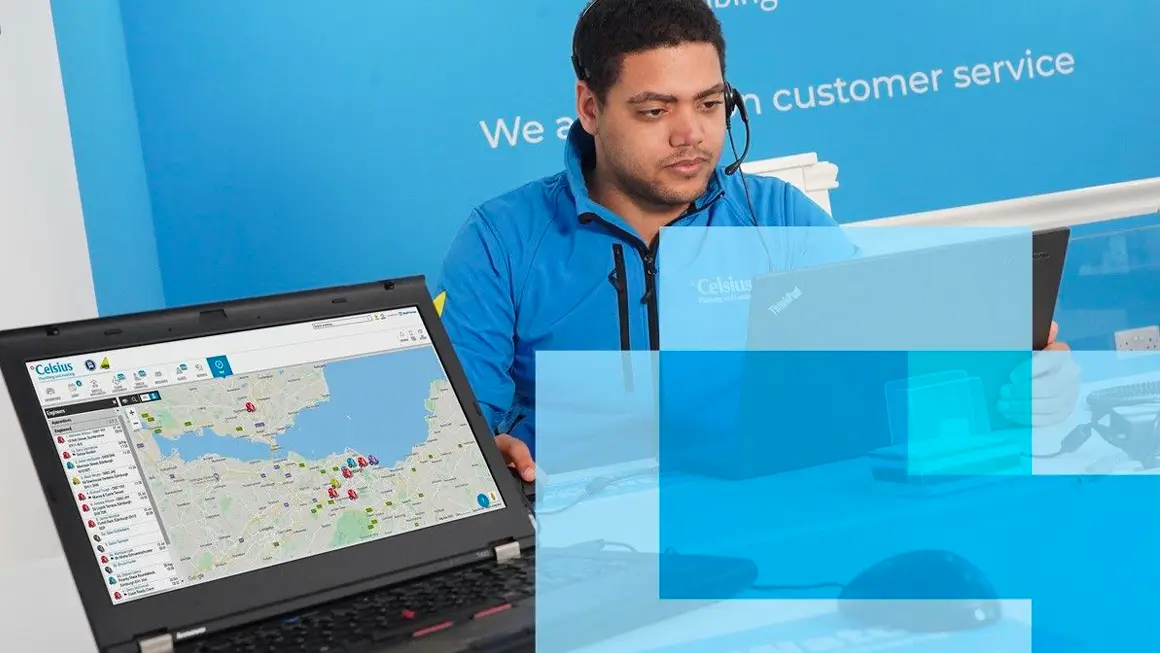 Field service businesses, large and small, juggle many jobs, tasks, and people. Having the right solution keeps everything and everyone organised and able to run jobs in a way that is accurate, efficient, and profitable.
The benefits that the right job management software brings are boundless.
In fact, field service management software is probably the single most useful tool in making you more competitive and setting you apart from the rest of your industry.
How BigChange provides a strong competitive advantage
At BigChange, it's our mission to make our customers successful by accelerating growth and sustainability in our community.
In fact, our approach is revolutionising an under-resourced but critical part of the UK economy. For the first time, these businesses can be truly scalable.
We've even won awards for it.
We are extremely proud to celebrate winning The Business Enabler of the Year at the Lloyds Bank British Business Excellence Awards, the UK's most prestigious national awards honouring the innovation, success, and resilience of British business. (And we are proud to be the first job management software company to do so.)
Why did we win this award? The win recognises our contribution to helping SME field service businesses transform operational efficiency, productivity, and customer service – and for using our position to promote best practice, safer driving, and compliance with field teams.
Speaking of best practice, in this blog, we'll walk you through seven examples of how we're helping BigChange customers to gain a competitive advantage, starting with one of the key benefits of job management software – effortless scheduling.
Example #1: Effortless Scheduling
Intelligent scheduling allows customers to schedule jobs, see if resources are on schedule, and send and receive automated messaging.
By the same token, not only can customers schedule and reschedule jobs quickly and easily, but so too can field service engineers.
Take MEDLEC, for example. The electrical contractor boosted worker productivity by 40% thanks to engineers being able to self-allocate jobs.
"As jobs come in, they are instantly available to our engineers. It means we can be more reactive and efficient with our time, therefore we're around 40% more productive, allowing us to take on more work with the same resources."
If you haven't considered job management software before, you can see how easy it is to schedule a job below.
You can simply drag and drop a job onto the schedule – and send it straight to your mobile workforce.
Example #2: Paperless Operations
It goes without saying, going paperless is one of the hallmarks of a good job management process.
You can't gain efficiencies when you spend so much time double-keying the same information into several systems, writing up job sheets, and using T-cards.
Going digital reduces admin time, plus overall job time – and human error.
With all your key information stored digitally, your team can access it from anywhere in an instant. The increased efficiency will mean you get more work done – with the same amount of people.
It's good for the planet too. 🌍
Look for an all-in-one cloud-based solution that can link up with Sage 50, Xero and more.
But don't just take it from us, see what plumbing and heating firm, Celsius, said:
"The new link between BigChange & Xero is now seamless and instant no delays. We only have to enter data once and that cuts hours off our admin time. Now anyone can raise an invoice we don't have to rely solely on the accounts team. This system automation will allow us to grow without increasing our back office headcount."
Example #3: Easy To Use Mobile App
Even those with job management software in place can fall short without a mobile app.
Your workforce is mainly on the road, so it's critical they have everything they need on the go.
A mobile app reduces job time, improves first-time fix rates, and more. Specifically, jobs can be sent to field workers in real-time allowing for urgent changes to happen instantly.
In fact, everything you want your field workers to have can be made available on a customer-by-customer basis, from site maps to manuals, forms and worksheets.
What makes BigChange the best job management software for many clients is its integration with vehicle and job tracking. This allows vehicle locations to be displayed on a secure, web-based mapping system. This real-time tracking provides instant visibility of technicians, as well as traffic conditions – reducing customer wait times and travel costs and emissions.
Talking about the solution, Danny Fuller, Operations Director, at LDF said:
BigChange handles our job management brilliantly, linking site history, alerts and client access rules seamlessly," he continued. "The function for multiday work, grouped jobs and the allocation of purchase orders is also fantastic and being able to link multiple teams, and multiple jobs to the same address has been a godsend."
BigChange is also saving LDF customers time and money, evidenced by 86% of its business coming from repeat customers.
Example #4: Accurate Job Tracking
Accurate tracking means complete visibility of your field based teams, vehicles, and assets with real-time updates.
Knowing exactly where your field workers are at all times, means you can reroute them if necessary or divert them to pick-up van stock from the nearest supplier or colleague.
You can also plan and reduce fuel costs with smart routing between jobs.
These efficiencies can translate into big profits, as illustrated by J W Hinchcliffe (Tanks):
"Since we went live with BigChange around 2 years ago, we have increased our turnover by around 35 per cent. "BigChange has freed up my time to run the business rather than it running me. This has allowed me to invest time in other areas of the business, such as the website, advertising and customer care, which has undoubtedly contributed to our growth."
Example #5: Robust CRM Database
In today's world, how you manage customers matters.
With a CRM system built for field service businesses, you can improve customer satisfaction through instant communication. Customers can log into a customer portal, track job progress, leave feedback, and directly communicate with your business.
Plus, field service operations become easier to manage. With full customer history, you can send reminders for recurring jobs, such as servicing of machinery and scheduled PPM (planned preventative maintenance). And you can also see full financial history with a customer as well as associated images, attachments, and contracts.
Of course, the real value of a CRM comes when it is integrated with your job management software.
As an example, before BigChange, Omnia Plumbing used a standalone diary system, separate accounting software, and no CRM – which meant countless phone calls and lots of wasted time. Talking about the switch to BigChange, Omnia's owner, Alastair Barton said:
"Since implementing BigChange, our customer interaction has vastly improved with automated ETAs and updates, and project-specific information available wherever and whenever it's needed. The vehicle tracking also means we never miss billing a job which saves us literally tens of thousands of pounds every year!"
Example #6: Strong Network and Partnership
Another way to gain competitive advantage is through a strong network and partnerships.
In a nutshell, a strong network allows you to offer yourself as a contractor/subcontractor or look for contractors/subcontractors safe in the knowledge they are trustworthy partners.
At BigChange, we are huge advocates of a partnership approach. We even have an entire team dedicated to it.
The BigChange "Network" provides the ideal platform for collaboration between customers.
To see how it works in practice, watch our overview video, below.
Example #7: Critical Business Intelligence
When evaluating job management software, it's easy to focus on ease of job scheduling, and all those other important elements to improve efficiencies. While all of this is important, we sometimes forget to consider business information.
Access to business intelligence insights can highlight opportunities to not only improve efficiency but also forecast cash flow management.
With 'at-a-glance' dashboards, you gain improved insight into your business. You can set-up KPIs and track job completion stages, financial reports with details on work in progress, and much more.
It's so important that everybody, from engineers to back-office staff have access to the right information, as Adam Redgwick, from Warmaway, points out:
"The engineers know in advance what their day looks like and they know they have the information they need to deal with each and every job. With BigChange, even the back-office staff know they have the tools they need to get the job done from scheduling to keeping the customers informed and managing cash flow."
Award-winning field service business: NWCE
What's even better than winning awards ourselves is seeing our clients win them.
NWCE Foodservice Equipment has recently won a Catering Insight award in the category Distributor of the Year Digital Initiative.
Powered by BigChange, the food service equipment company is now able to save 31.4 miles in a day, saving roughly 31 minutes of driving time with live traffic forecasting.
This converts to a massive reduction of 1.5 tons of CO₂ per van, per year!
See for yourself👇
Gain competitive advantage with BigChange
As you plan for next year, take the time to consider what's best for your field service business and how you can maximise efficiencies and improve cash flow to scale and grow.
If we have you convinced that job management software is the way to do it, start here with a demo to find out if BigChange could work for you.
Read Next