BigChange 2020 in Review
Back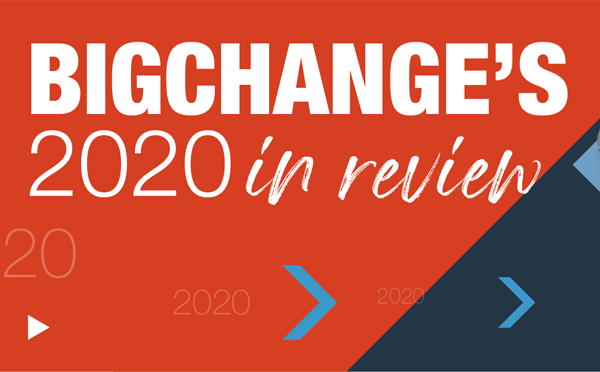 15 December 2020 – It's been quite a year. Here are the month-by-month highlights.
December: We end 2020 as we started it, with a flurry of new customers signing up to BigChange. Balloo Hire, one of Ireland's leading tool and plant hire companies, revealed this month that it is saving 350 hours every week previously spent scheduling and realised significant savings in fuel consumption too.
November: BigChange and Sheffield City Council are highly-commended at the Local Government Chronicle Awards for transforming special educational needs transport in Sheffield. "A powerful example of technology driving wholesale change", say the judges.
October: The BigChange University began with a bang, attracting 1,500 participants in its first month of operation. BigChange University offers 27 training modules to help customers get the most benefit from JobWatch.
September: BigChange is named in the Sunday Times TechTrack 100 as one of the UK's fastest-growing technology, media and telecoms companies. This was the third year in a row that we've made this prestigious list.
August: Kevin Keegan OBE gives BigChange's people and customers fantastic leadership insight in our exclusive YouTube series. Over nine episodes, Kevin and Martin Port share top-level leadership advice and the lessons business leaders can learn from football.
July: BigChanges posts excellent results for the first half of 2020. Despite Covid-19, BigChange secured a record £13m-worth of new contracts in the first half of 2020 and saw half-year revenues reach £8.2m, up from £7.6m in the first half of 2019.
June: BigChange announces integrations with popular accounting packages Xero and Sage, enabling customers to synchronise JobWatch data with accounting tools and eliminate the time wasted 'double keying' information into separate software packages.
May: BigChange reveals that it won 80 new customers in the first quarter of 2020, adding a total of £8.3m in contract wins. Outside of the UK, BigChange has customers in multiple territories, including France, Ireland, Norway, Australia and the US.
April: BigChange is honoured with a Queen's Award for Enterprise – one of the highest official honours for companies in the UK. We were recognised in the Innovation category for developing JobWatch.
March: Lockdown strikes, and BigChange moves 160 staff to remote working with zero downtime for our customers. BigChange also creates its 'No Touch' signature app to help to meet the demands of social distancing.
February: Gritting company AA Salt reveals it has improved the productivity of its gritting operations using BigChange. "From just 100 jobs a night we can now do up to 450," says the firm, thanks to better routing and job scheduling with BigChange.
January: BigChange hires Michelle Dewberry as an ambassador to support sales and marketing activities for the BigChange Collaboration Network. Dewberry shot to fame in 2006 when she won the second series of BBC reality show The Apprentice.
Read Next