"He was never beaten": John Stiles on World Cup winner Nobby
Back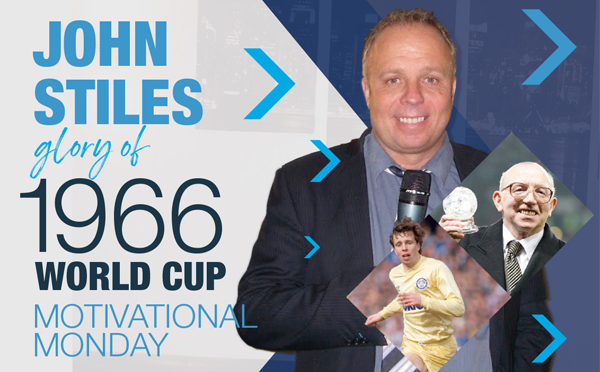 Nobby Stiles wasn't a man naturally cut out for football. His son John told this month's Motivational Monday that he was half-blind, stood at 5-foot-5, and was 9 stone wet through.
Even his name wasn't right. After meeting Manchester United coach Jimmy Murphy, he was told:
"You can't be a tough-tackling midfielder with a name like Norbert".
That's how we came to know him as Nobby.
And yet Stiles is one of only three Englishmen to have won both the World Cup and the European Cup.
John Stiles joined the BigChange team to tell the story of his father, the 1966 England midfielder who died in 2020 with advanced dementia, which his family links to years of heading the ball.
John said:
"All of us have obstacles in life and my dad had plenty, what he did have going for him was a fantastic sense of humour. He was always enthusiastic, and he was never beaten."
Nobby was largely on the bench at United from 1960 to 1963. Five years later, he'd have a World Cup, European Cup and League Title to his name. It all came from not giving up.
Nobby was so short-sighted that when he forgot his contact lenses for his first under-23 game for England he tried to take out Scottish striker Charlie Cooke but kicked Billy Bremner instead. John recalled:
"After that, whenever they'd play together, they'd kick seven different shades out of each other."
It was Nobby's first step towards the 1966 World Cup. He played every minute for England – from media criticism after a crunching tackle against France, the violent game against Argentina (which finished with a chair through the dressing-room window), to the iconic image of him dancing with the Jules Rimet trophy in one hand and his false teeth in the other.
But there was a greater importance to John's visit. Nobby passed away while suffering from advanced dementia in October 2020. He was one of many ex-players who suffered brain injuries after a long career in football – an "epidemic of dementia from heading the ball" as John put it.
Since its inception in 2020, John and his family have been ambassadors for Head for Change, a charity pushing for better protection of brain health in sport, and supporting ex-players.
John was joined by the charity's co-founder Dr Judith Gates. She said that:
"Players like Nobby formed the foundation of the modern game but didn't get modern-day compensation."
Her own experience of supporting her husband and ex-Middlesbrough player Bill Gates (who suffers with chronic traumatic encephalopathy), motivated her to be part of the solution.
The instant impact Head for Change has had in setting up support groups, educating,
and funding groundbreaking research has shown the popularity of the cause.
Thanks go to the BigChange audience, who raised £1000 for Head for Change, and our speakers John and Judith. You can watch the full discussion here.
Next month, we welcome former English Netball head coach, Tracey Neville MBE. She guided the women's national team to Commonwealth Gold in 2018 and will be joined by Leeds community-action charity CATCH. We hope to see you then.
You can register here.
Read Next