Thetford International Disposes of Paper with BigChange Tech
Back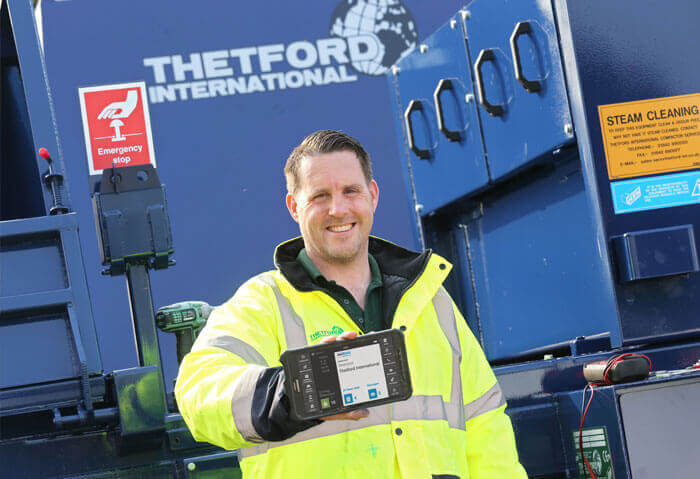 Thetford International has deployed a mobile service management system equipping field service engineers with tablets connected in real-time to central management systems.
The cloud-based system from BigChange has allowed the Norfolk-based manufacturer of waste compactors to switch to paperless working to improve efficiency, productivity and customer service.
Established for 50 years, Thetford International is a founder member of CHEM, the Container Handling Equipment Manufacturers Association. The company has become a market leader in the design and manufacture of all types of compaction equipment, supplying to a diversity of sectors, from the print industry and supermarkets to industrial complexes, recycling centres and refuse transfer stations.
Thetford uses JobWatch, the BigChange solution for managing mobile service operations using live-connected mobile devices running a multi-functional app to replace all paperwork, integrated with vehicle tracking to monitor the fleet and drivers. As well as replacing nine A4 carbon-copy installation and service forms, the JobWatch 5 in 1 app is also used for engineer time sheets, risk assessments, driver vehicle checks and the management of parts.
Thetford carries out routine maintenance of compactors but the majority of work is reactive and requires a fast response due to the safety concerns of potentially dangerous equipment. Job details are sent to the assigned engineer to complete with JobWatch managing the entire process from start to job completion.
Andrew Goddard, Service Manager, Thetford International, says:
"We had been on the lookout for a suitable system for a numbers of years but nothing seemed to exist that really combined the tracking and field service reporting needs,"
"The BigChange solution is very flexible and adaptable and we were able to tailor it to meet our needs."
JobWatch has been integrated with Thetford's own bespoke IT system called Onsite providing asset register synchronisation and the seamless interchange of data between the systems. According to Thetford, the biggest benefits are financial and in particular with regard to invoicing.
Goddard explains:
"Previously it could take up to 3 weeks to raise an invoice. Now we do it next day and potentially we could do it the same day,"
"JobWatch ensures invoices are accurate and are in line with what the customer is expecting and as they are received soon after the job, there are many fewer queries and payment is always quicker."
Thetford's engineers cover the UK working from their homes. With vehicle tracking fitted to the fleet of Ford Transit vans, BigChange provides an automated 'clocking in and clocking out' system. With van often stocked with thousands of pounds of parts, it also offers added security and driver monitoring and rating has also encouraged safer driving; important as engineers travel as much as 40,000 miles a year.
JobWatch has also been developed to manage Thetford's stock control with engineers using their tablets to record parts used. With around 400 individual parts, the system automatically replenishes stocks with deliveries to engineer collection points.
Goddard adds:
"Previously the vast majority of information was held in people's heads and by introducing BigChange we have brought all that knowledge into one place. It all works very well and seamlessly with our other systems. The whole service operation just runs a lot more smoothly and our customers – and the company Accountant – are a lot happier!"
Read Next