BigChange Gives a Lift to Gartec Business Performance
Back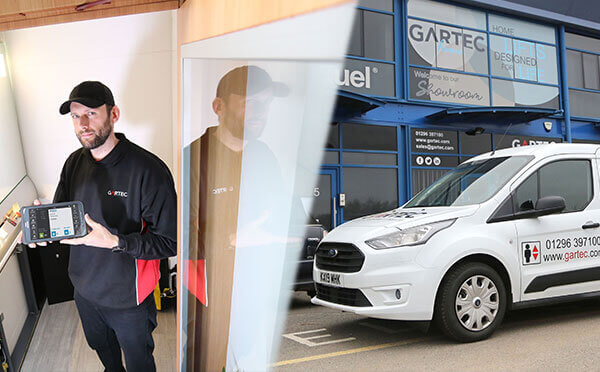 Gartec, the UK's leading supplier and installer of passenger platform lifts, has transformed its business with a single IT system that provides end-to-end digital working, eliminating paperwork using mobile devices.
With the 5 in 1 system from BigChange, Gartec field service engineers use smartphones or tablets connected in real-time to cloud-based software that manages the entire business process from initial call to closure and invoicing.
Gartec has been at the forefront of the platform lift industry for 25 years and is a subsidiary of Artico, the Swedish lift manufacturer. Employing 50 people and based in Aylesbury, Gartec supply, install and maintain lifts with a team of 20 service engineers together with sub-contacted installers.
JobWatch – the BigChange system – has completely replaced separate software systems used for service management, audit management and tracking, and added a host of new automation capabilities.
Ben Long, UK Operations Manager at Gartec comments:
"We chose BigChange not only because they offered the best and most cost-effective solution, but because it was clear that they were a company with ambition and vision to really move things on."
Gartec has initially implemented JobWatch within its service maintenance division but roll-out to the installation services side is planned soon.
Ben explains:
"The beauty of JobWatch is that anyone can access and use it. That means our sub-contract installers can use their smartphones to access the JobWatch app and we can then manage sub-contracted work seamlessly as if it was our own."
Although much of Gartec's service work is undertaken as part of Planned Preventative Maintenance (PPM) contracts, the company provides 24/7/365 emergency services with guaranteed response times of typically 4 hours. Customer service staff use BigChange to log incoming calls and then plan, schedule and allocate jobs to engineers, who in turn use their smartphones running the JobWatch App the gives seamless two-way connection with the back office system.
Ben comments:
"BigChange is providing huge efficiency gains with the optimisation of routes and resources and the complete automation of many administrative tasks."
He continued:
"Since implementing BigChange the engineering team has grown from 9 to 15 and turnover has grown by £1miliion, without having to increase the number of office support staff. I reckon we are probably twice as efficient when it comes to administration and managing operations has become a lot easier."
Gartec particularly like the bespoke functionality and reporting capability of BigChange, allowing changes to be made easily to suit their needs. Customer service has also benefited with the improvements in information and communication – automated emails confirm orders and call outs and accurate ETAs are provided using data from BigChange GPS trackers fitted to Gartec vans.
Armed with better information, there are immediate benefits on the financial side.
Ben explained:
"BigChange provides a complete audit trail of work with job reports backed tracking logs and photographs. Invoicing is now much more efficient. Previously it could take up to two weeks to get an invoice out; now we can generate invoices within 48 hours."
BigChange and Gartec have jointly developed a series of automation tools to support the project management of installations. The application takes project engineers through a series of pre-defined procedures for step by step task completion. Backed up with site photographs that can be annotated with a drawing tool, customers are fully informed of what site work is required prior to installation and installers are provided with clear installation guides; all generated using JobWatch.
Gartec is also very enthusiastic about the benefits of BigChange vehicle tracking which not only helps operations and customer service but is being used help cut fuel use and monitor drivers.
Ben summed up:
"We have seen a significant improvement in driving and the driving performance reports are used as part of a monthly £100 performance bonus scheme."
"Overall BigChange has streamlined the business and the whole process is much smoother. Probably the biggest benefit is the added visibility we now have and the automation provided by the system has helped to remove the human error element; the system gives us continuity and accountability."
Read Next