Chairman's spotlight on… Graham Nixon, CEO of Nixon Hire
Back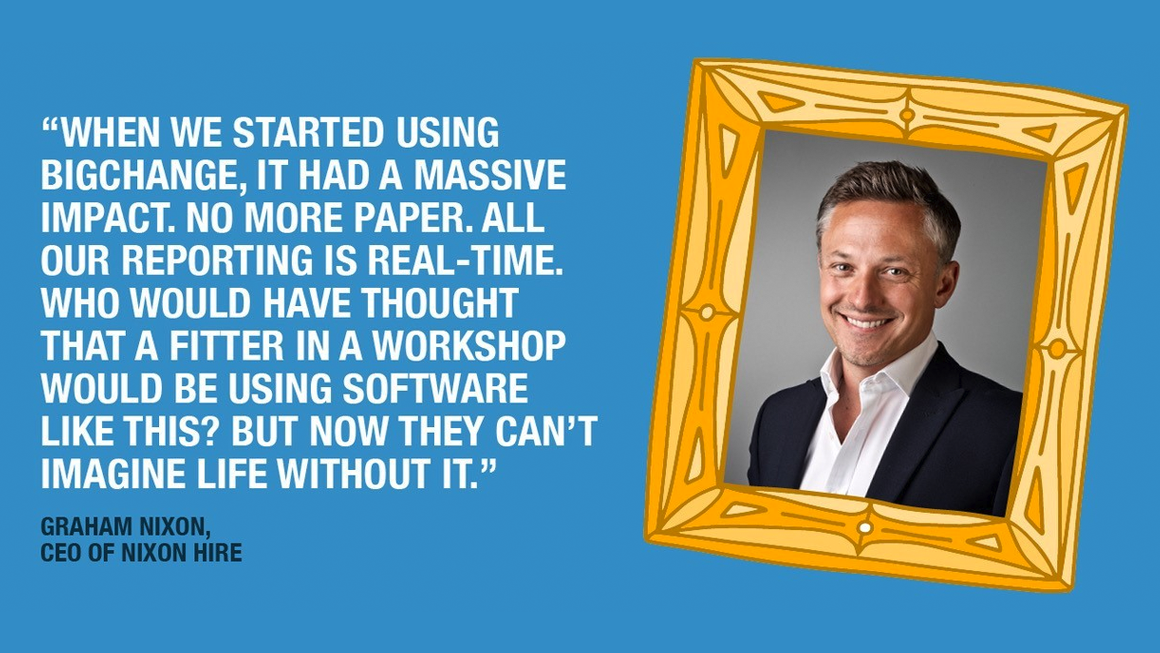 In life, patience is a virtue. In business, impatience can be even more valuable.
When you want your company to grow, to modernise, and to evolve, you can't sit back and wait for things to happen. You have to drive that change. You must motivate your people and inspire them to be their best. It is your energy and sheer force of will that catalyse to bring new ideas to life.
When I met Graham Nixon 15 years ago, I recognised a kindred spirit. Graham is a self-confessed "impatient man". "I embrace change," he tells me. "I believe in action first – perfection will follow. Change is what gets me out of bed in the morning."
Graham became CEO of his family business 12 years ago. Nixon Hire was founded by his father John in 1967. "He sold my mum's car to raise the collateral to start the business," he explains. "He used to be a sales representative for a company selling vibrating pokers and he saw an opportunity to offer rental too." Nixon Hire grew to a single depot offering plant and vehicle hire. Today, Nixon Hire offers plant rentals, site accommodation, toilets, welfare cabins and more, serving the whole UK from 13 depots and employing 520 people.
Graham wasn't just parachuted into the CEO job; he started as a fitter and worked his way up. During that time, he founded a bunch of other companies which taught him all about entrepreneurship – the highs and lows. Impatient to prove his mettle, he and his siblings even started a site services business, which became so successful that it was bought by Nixon Hire.
Nixon Hire became a BigChange customer in 2014, and I have watched the business grow and flourish. "I'm always trying to modernise and improve the business," he says. "When we started using BigChange, it had a massive impact. No more paper. All our reporting is real-time. Who would have thought that a fitter in a workshop would be using software like this? But now they can't imagine life without it.
"I am a great believer in getting from A to B in the most efficient way," he continues. "Today, we integrate many parts of the business on the BigChange platform.
"My ultimate business objective is to have perfect assets, always available for hire, and BigChange lets me deliver on that goal."
Graham's strength of character has shone through as the business has become increasingly adept at targeting individual sectors, such as events or retail. He introduced the innovative welfare cabin – an all-in-one product offering a generator, cabin and toilet in a single unit. The response has been incredible.
Graham never stands still; he's always thinking about the next big thing. "Right now, we're building up our renewables business," Graham tells me. "Our solar pod, which allows customers to use the power of the sun to replace a diesel generator, has been hugely popular."
Under Graham's stewardship, the business has gone from £27m in revenue to £85m. "We have added more divisions, and pushed to get maximum utilisation out of every depot," he says. "This industry is fiercely competitive, with people fighting over the price of a sandwich on kit, so efficiency is key."
Graham has created a model that can be replicated anywhere. "We are currently supplying to most parts of the UK right now but need to strengthen our depot presence to make us more efficient and better placed to serve our customers." This year, the business will hit another milestone: £100m in turnover.
This is the power of impatience
Read Next