Why we need more female apprentices
Back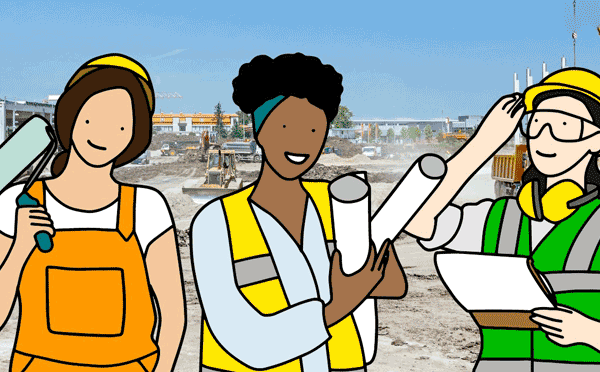 Not many schools nowadays invite carpenters and plumbers to their careers days to talk about the value of vocational apprenticeships and jobs in the construction trades – and even fewer focus this advice towards girls.
If you know of one that does, I'd love to hear about it, because the number of women who choose a career in construction or the trades remains shockingly low. This, despite the fact that the talent shortage means companies are crying out for skilled workers. And despite the fact wages in these fields have shot up in recent times.
This week, Rated People put out its annual trends report. It's packed with interesting data about the home improvement boom, the most in-demand trades and the rise of eco-homes.
But there's an eye-opening section on tradeswomen – or lack thereof.
Women make up less than 1% of carpenters and joiners in the UK, and less than 2% of electricians, plumbers and metal workers.
My jaw hit the floor when I saw those numbers.
This got me thinking about how to get more women into these roles. In fact, I recently spoke with a female apprentice to coincide with International Women's Day.
But in the meantime, I thought I'd open the conversation by talking about women apprentices – and why I think this could be a key part of the solution.
Challenges and developments for female apprentices
To help educate me about the challenges and developments in this area, I caught up with Derek Whitehead, the Principal & CEO of Leeds College of Building (LCB).
The LCB is the only General Further Education college specialising in construction and the built environment nationally with more courses and levels of courses than any other organisation.
Approx 6,000 students are accommodated annually, with some 2,800 apprentices currently learning with the LCB.
Derek knows the world of apprenticeships inside out. Crucially, because the college works with 1,700 employers, he also has a bird's eye view of the whole issue.
Surge in employer interest for apprentices
Derek tells me that there has been a real surge in employer interest in apprentices. That many are choosing to train new recruits from the ground up, instead of going the traditional route of hiring university graduates, particularly in level 4, 5 and Degree Apprenticeships.
This is because 80% of an apprenticeship is delivered on employers' sites and 20% with colleges or other training organisations. This compares to traditional university pathways, where most programmes deliver 100% of the training is off the job.
The government has also done its bit to help employers choose apprenticeships through a scheme that covers all – or most of – the cost of this training, particularly for non-levy paying organisations, and other incentives.
Benefits of apprenticeships to students
For would-be apprentices, this route is also very attractive.
Universities charge steep tuition fees, in addition to students paying accommodation costs, leaving them with huge loans to repay. On the other hand, apprentices earn while they learn and don't need to rack up these costs.
Derek says that 95% of the apprentices that come through the college are kept on in sustainable permanent employment, with the same employer usually, after completion of their apprenticeship.
Simply put: it's hard to think of a time when apprenticeships have looked more attractive.
And yet, of all those students studying at the college, just 7% are women. And while there are more female apprentices across areas such as transport, planning and civil engineering, there are few on the craft side, in bricklaying, plumbing or electrical.
"Yet when women do join, they excel," says Derek. "Two of our female students recently won national awards, for example, in painting and decorating."
More awareness needed
The college, alongside many other organisations, is calling for more awareness of the breadth and variety of trades and construction apprenticeships within schools – especially among girls and young women.
"We would love for more schools to equally promote vocational routes alongside academic routes, such as sixth form and university," he says.
"Often, when we go into schools to talk about the opportunities we have for learners, we are presented with a very small group of students, while a bank or big corporate may address the full year 10 or year 11 cohorts.
"The better schools, of course, invite us in regularly, and carry out visits to the college, promoting good neutral careers advice, and guidance."
He wants young people to know how much the world of construction has changed and continues to evolve.
"There used to be an idea that it could be dangerous, or that there was lots of lifting and a poor image but that's simply not true," he says. "Health and safety legislation means sites are superbly managed, and mechanical devices now do the heavy lifting."
Committed employers
For women, in particular, Derek wants to get the message out that employers are committed to making construction a welcoming place for female workers, from single-sex facilities on sites to more flexibility around the needs of families and even pro-active policies to encourage more women into the industry.
He says: "It's such a fantastic and rewarding industry for all to work in with a wide variety of daily work activity, working as part of a team, together with being part of major infrastructure and commercial projects, new housing and/or repairs and building improvement."
The talent shortage is only going to get more acute, he warns, so we need to take action now.
"Some 225,000 vacancies are projected in our industry," says Derek. "And that doesn't include the 38,000 in zero-carbon areas. We need to engage everyone who is currently underrepresented in this industry, from women to people from different ethnicities."
I'd love to hear everyone's thoughts on this topic, especially my customers at BigChange, who I know are always on the hunt for new talent.
Do you have any female apprentices? How have you changed your approach or processes to attract more women into the industry?
I'd appreciate the opportunity to learn from you.
Read Next