The first 100 days
Back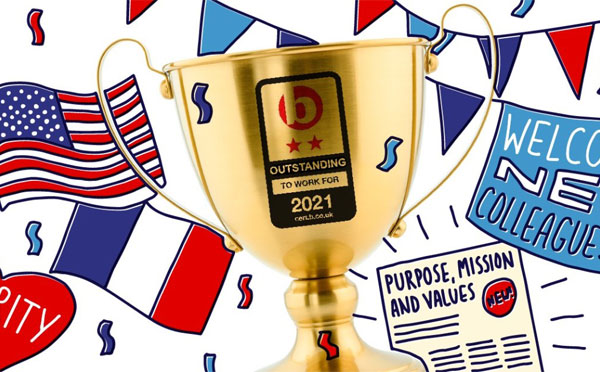 Four months ago, Joe Biden was inaugurated, becoming the 46th President of the United States. At the same time, I was preparing to announce an American triumph of my own. 100 days ago, the US investor Great Hill Partners came on board, pledging both capital and expertise to help BigChange supercharge growth and reach new markets around the world.
It is said that the first 100 days of a presidency sets the tone for the entire term in office. So how has BigChange fared since the formation of its new partnership?
Here are the highlights:
Still the best company to work for
Few accolades mean as much to me as the Best Companies 2 star award. It recognises outstanding employee engagement, and has become the absolute industry standard. Achieving this accolade again means the world to all of us on the management team here. We know that BigChange would be nowhere without the extraordinary team who go the extra mile every single day, so I am proud and humbled that they love working here.
We're on a mission
One of our first tasks after the investment by Great Hill Partners (GHP) was to review our purpose and mission. A lot of time and energy went into this process as it lays the foundation for the next phase of our growth. Some of our values and mission have remained constant since the beginning: to make our customers more successful, to raise the bar every day. But we have also put a renewed focus on sustainability. Our platform helps customers to slash their carbon emissions, reducing paperwork dramatically and helping drivers spend much less time on the road. This is now written large in our purpose, alongside new and important values such as building an inclusive and diverse company.
Gearing up
A few weeks ago, I posted about how OKRs contributed to Google's runaway success https://www.linkedin.com/pulse/goal-setting-strategy-took-google-1trillion-martin-port . Objectives and Key Results is a tried-and-tested management methodology for measuring and monitoring your company's progress when you have big and exciting goals in sight. I'm glad to say that our OKR strategy is now up and running. We are now on a growth journey that I believe will take us from a valuation of £100m to £1bn. OKRs will be a vital part of this strategy, keeping us all engaged and focused on the next milestone.
Wider share ownership
I'm passionate about employee ownership. I believe it is the best way to create and maintain an engaged, passionate team. GHP believed in my vision to make every colleague here a shareholder or have a loyalty bonus. Right now, every member of the team who joined before February is part of these schemes, and is right here with me on this growth journey, knowing they will share in our successes. It's an exhilarating time for us all.
A few new faces
The pandemic may have made hiring a little more complicated but our brilliant HR team and managers have successfully brought on 30 brilliant new starters over the past three months. And we're still hiring! We have also made some senior appointments that give us a real edge in this marketplace. People like our new chairman Richard Warley and new chief marketing officer Nick Gregory will help us dramatically accelerate our growth over the coming years.
Investing in the next phase
So, how has GHP's investment been deployed? The big focus is on Product Development and we have earmarked £5m to spend on innovation across our whole technology stack. The team here are already working on new features – I hope to be able to share more on that soon. We are also now officially on the acquisition trail and are actively looking for complementary companies in the US and in Europe too.
Giving back
One of the best things about success is that it gives you the ability to help others. Ever since the launch of BigChange, we have consistently supported great charities and causes – this was true of my last business too. So, we haven't let the excitement of the last 100 days distract us from giving, and we have helped four charities during that time, including the mental health charity Mind and Friends of Alfie Martin, which supports the neonatal units at St James Hospital and Leeds General Infirmary.
Writing this has given me a chance to reflect on what we have achieved in a short period of time. I really do hope that the past 100 days define our new partnership with GHP; I can't wait to see what the future has in store.
Read Next