Welcome to my new website
Back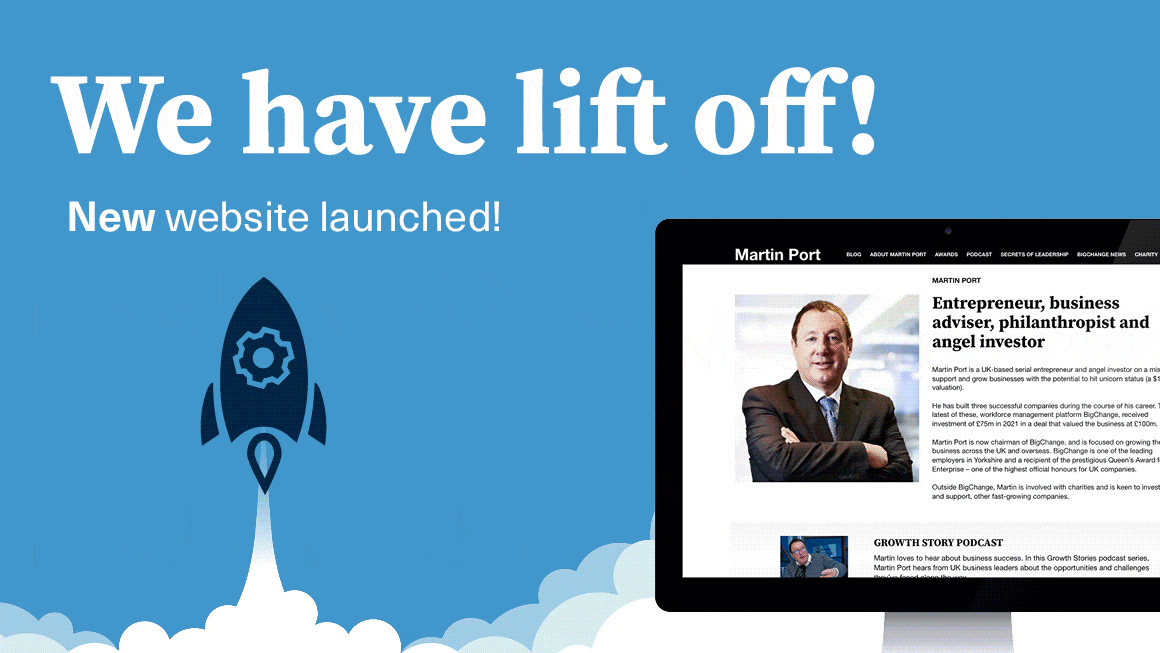 Hello and welcome to my new website, martinport.com.
My previous website was launched back in 2011 and so much has changed since then that I thought it was time to start afresh. I hope you like my new website, which will continually be updated with news, blog posts and videos.
Back in 2011, I had sold my last business – Masternaut – and was thinking about my next venture.
That venture ended up being BigChange, an all-in-one job scheduling, tracking and customer relationship management software company. I launched the business on New Year's Day in 2013, so we're fast approaching our 10 year anniversary and what a journey it's been so far.
Clearly we created a solution that hit the spot for businesses with mobile workers across different industry sectors. BigChange is now used by around 2,000 companies and 50,000 field service engineers, and we operate overseas in territories including continental Europe, Australia and Canada.
Our fast growth caught the eye of many investors and in 2021 I sold a majority stake in BigChange to private equity firm Great Hill Partners in a deal that valued the business at £100m.
It was a huge moment for me and the business, but signing on the dotted line was one of the best decisions I've ever made.
The success of BigChange isn't just down to me. There are many people who have contributed to the success of this company.
Firstly there's my team, who work tirelessly to create a technology that puts customers first. There is also my family who are always patient even when I'm consumed by work.
Finally, we would be nothing without our loyal customers – many of which have been with us since the beginning.
Supporting great causes
Of course, there have been many proud moments beyond the business over the past 10 years. One of the biggest joys of being a successful entrepreneur is that it has allowed me to support many great causes.
I'm an ambassador for Transaid, the Africa-based transport charity, and I do my best to support a wide variety of charities and organisations to make a difference.
In the past year I've begun working with a new charity – the Yorkshire Children's Centre (YCC) – which I was introduced to through my role as a board member with Business in the Community.
The YCC is doing excellent work at helping young people overcome difficulties and challenges. I've met some of the students they support and I've recently funded an exciting new project for the young people starting in September that will help them learn about the world of work and finding employment.
My aim is to make a positive impact on the many disadvantaged and vulnerable young people the YCC supports.
It's work like this that truly inspires me to keep growing businesses so I can continue to help others where I can.
You can find more about some of the charities I support here.
Becoming an angel investor and business adviser
Alongside my role as chairman of BigChange, I have also expanded my business interests to support other fast-growing companies this year.
I recently led a seven-figure fundraising round into tradesperson marketplace Rated People and hope to announce further investments in due course.
I'm also a strategic adviser at MoreLife, a company that makes the lives of individuals healthier through weight management services.
It's fascinating working with so many companies and charities and I'm looking forward to seeing what opportunities and challenges lie ahead.
Where next?
I love hearing about the secrets of others' success and I've launched a podcast – Growth Stories – where business leaders from all walks of life talk me through their motivations and ambitions.
It follows on from my video series with former England footballer and manager Kevin Keegan, and I'm enjoying hearing tips from others who are the best in their sector.
I've really enjoyed the past decade or so and I couldn't have achieved any of this without the support of my family, colleagues and customers. I'm forever grateful to those who have stuck by me along the journey.
Here's to the next decade and beyond!
Read Next