Great charities need our help; bad ones don't
Back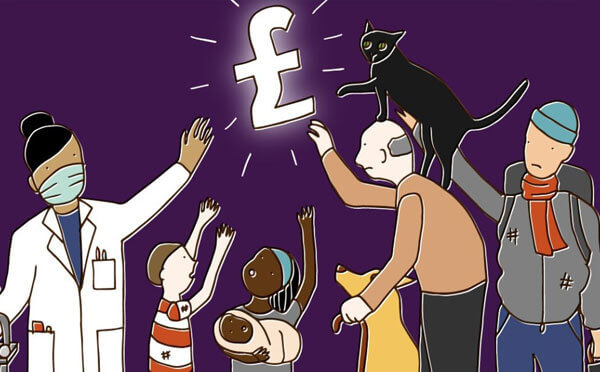 These are tough times for many charities. The pandemic has created financial hardship for a lot of the people who usually give to good causes.
They have been forced to stop their donations, while others have moved support from their usual charities to those tackling COVID-19.
A recent study by Pro Bono Economics found that as many as one in 10 UK charities is facing bankruptcy by the end of the year. The report pointed to a £10bn shortfall, caused by soaring demand for the services offered by these organisations alongside the massive drop in income due to coronavirus.
This is something that weighs on me heavily. Like many other business leaders, I had to make the tough decision to reduce BigChange's contributions to charity earlier this year. We usually give upwards of £200,000 to different causes each year but, right now, my priority has to be the needs of my colleagues and our customers – and the ongoing health of the business.
We are still making donations to humanitarian causes but have been forced to cut back on other charitable spending. I hope that this will only be for the short-term.
However, this got me thinking. I may not be able to give as much as before but could I, as an entrepreneur, figure out a way to help charities generate more donations? What resources or assets could I leverage to help them, in lieu of hard cash? This is when I had a brain wave.
The first Monday of each month, BigChange invites an inspiring speaker to come and tell the BigChange team about their lives. The Motivational Monday initiative has been running for a couple of years, and has been extremely popular. We've welcomed a diverse range of fascinating people, from Toyah Wilcox to Eddie the Eagle to Holocaust survivor Arek Hersh. This month, we are hearing from serial entrepreneur and Queen of taupe Kelly Hoppen.
I am now teaming up with local charities to give them access to these Motivational Monday events, so that they can use them as a part of a virtual coffee afternoon to help raise donations. I'm delighted to announce that we have already signed up the first two charities who will be coming on board: Yorkshire Cancer Research, and the My Name'5 Doddie Foundation, which funds research into motor neuron disease.
I hope that these partnerships will help worthy causes to raise awareness and hopefully get them some much-needed financial support at this difficult time. When faced with a problem, even one that seems impossible, there is always a solution if we think hard enough, and explore all the options available to us.
I want to do all I can to help worthy charities right now, as they do such brilliant work in this country. We must all pull together to make sure they can keep offering the services that vulnerable, sick, and disadvantaged people need now, more than ever. But we must also do our homework, supporting only those charities that are well managed and funnel the majority of donations towards the people they have promised to help.
There have been recent reports of charities – some big names too – that have failed to provide an acceptable level of service and even allowed vulnerable people to come to harm. The onus is on us all to do our due diligence before giving our money and support. It may feel uncomfortable to do so, it may be time consuming, but it is worth it to make sure that charities that truly make a positive difference in the world get the support they deserve – and the bad ones don't.
Read Next