Chairman's spotlight on… Luke Taylor, founder of Cloud Plumbing & Heating
Back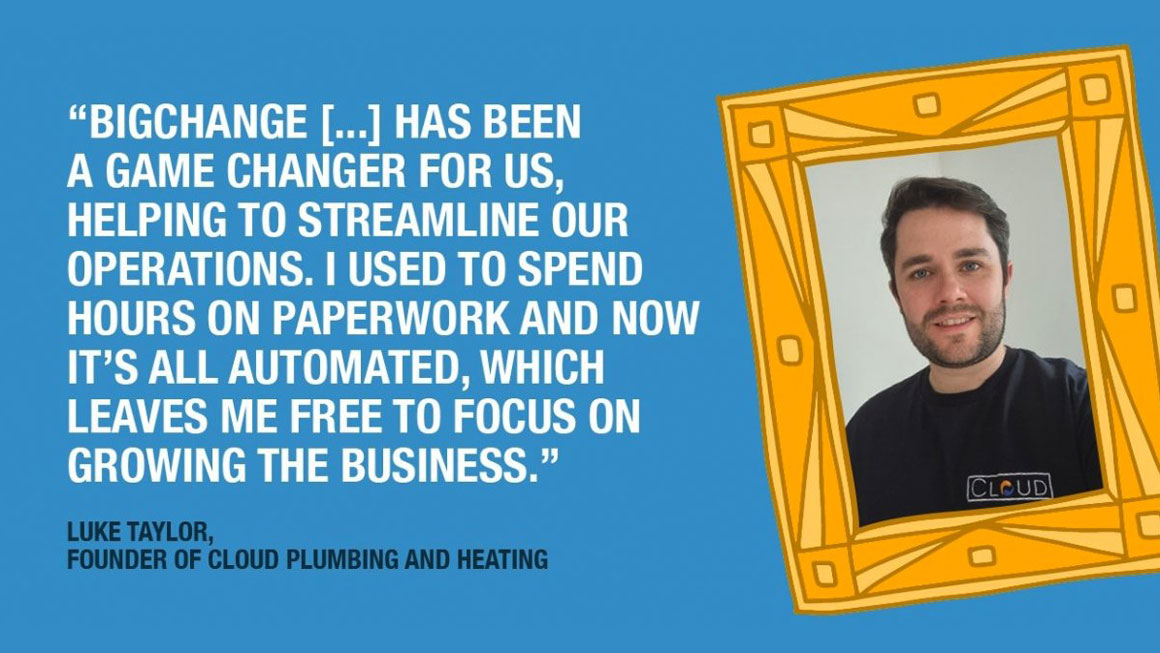 I often talk about how technology can help supercharge growth for businesses of all sizes. Once you find the right software or platform for you, the results can be dramatic.
Two years ago, plumber Luke Taylor was working for an insurance firm. He had been at the company six years and had itchy feet. "I had always wanted to run my own company," he tells me. "I decided it was time to have a go."
He and a colleague took the plunge and fitted their first bathroom as independent tradespeople in February 2020. "Perfect timing," he jokes. The pandemic soon struck, leaving Luke and his partner high and dry. Later that year, his partner moved away, so Luke decided to start his own company, Leeds-based Cloud Plumbing & Heating.
Anyone in the trades knows that it can be hard to get going as a new company. You have no track record, no word-of-mouth recommendations, and no money to invest in marketing. Luke's solution was to use Rated People, the trades platform, to drum up new business and make a name for himself.
"You sign up and pay a small monthly subscription and then you pay per lead," he explains. "We were winning 70% of all the bathrooms we pitched for, and in that first year we landed around £100,000-worth of work."
Of course, a platform like RatedPeople.com can only help accelerate growth if you do a great job. "We have 38 reviews on RatedPeople.com – and all are five stars," Luke says. "That's been a major factor in our success." Customers soon started recommending Cloud Plumbing to their friends, and the business began receiving lots of inbound enquiries.
"I was really fortunate that there was a massive trades boom last year," he says. "People couldn't go on holiday, so they had some money to spare. And they were spending a lot more time at home, which made them want to invest in new kitchen and bathrooms."
I met Luke after he did some work for my father-in-law. The quality of the craftsmanship was second to none, so I asked to meet him, and we got chatting. To help expedite growth further, Luke decided to use BigChange to automate his processes.
"I was spending at least two hours per job on creating invoices, attaching them to emails, and chasing payments manually. It was so inefficient," Luke says. "I was creating each document in Microsoft Word!"
Luke's business is going from strength to strength. "In October 2020, when I started the company, there were just two of us, working out of a van I borrowed from my dad. And now we are a team of six with three vans between us," he explains. "We started using BigChange in January, which has been a game changer for us, helping to streamline our operations. I used to spend hours on paperwork and now it's all automated, which leaves me free to focus on growing the business."
Luke has recommended BigChange to other companies in his network, and has brought his subcontractors onto the platform. "We use one plumber for our maintenance work. We used to send details of jobs over via Whatsapp and we'd go back and forth. We got him a BigChange licence and he's loving it!"
These two technology platforms have helped to revolutionise this start-up, and allow Luke to grow faster than he ever anticipated. "I'm aiming to get to 10 people and 10 vans," he says. "We'll get there pretty soon and BigChange will be integral to that growth."
Read Next