CEO's Blog – You're hired, Apprentice star tells tech firm
Back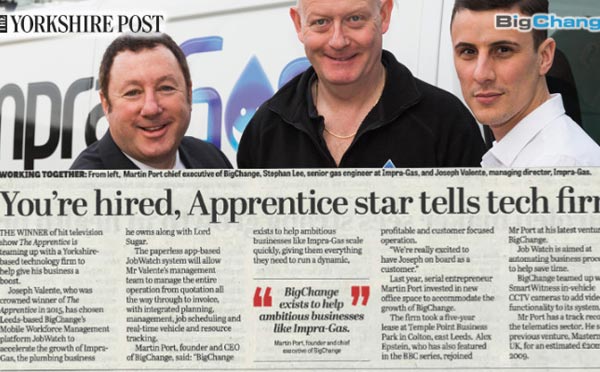 The winner of hit television show The Apprentice is teaming up with a Yorkshire-based technology firm to help give his business a boost.
Joseph Valente, who was crowned winner of The Apprentice in 2015, has chosen Leeds-based BigChange's Mobile Workforce Management platform JobWatch to accelerate the growth of Impra-Gas, the plumbing business he owns along with Lord Sugar.
The paperless app-based JobWatch system will allow Mr Valente's management team to manage the entire operation from quotation all the way through to invoice, with integrated planning, management, job scheduling and real-time vehicle and resource tracking. Martin Port, founder and CEO of BigChange, said: "BigChange exists to help ambitious businesses like Impra-Gas scale quickly, giving them everything they need to run a dynamic, profitable and customer focused operation.
"We're really excited to have Joseph on board as a customer." Last year, serial entrepreneur Martin Port invested in new office space to accommodate the growth of BigChange. The firm took a five-year lease at Temple Point Business Park in Colton, east Leeds. Alex Epstein, who has also featured in the BBC series, re-joined Mr Port at his latest venture BigChange.
Job Watch is aimed at automating business processes to help save time. BigChange teamed up with SmartWitness in-vehicle CCTV cameras to add video functionality to its system.
Mr Port has a track record in the telematics sector. He sold his previous venture, Masternaut UK, for an estimated £20m in 2009.
Read more: http://www.yorkshirepost.co.uk/business/you-re-hired-apprentice-star-tells-tech-firm-1-7733455#ixzz40NE4TFA

Martin Port
Founder & CEO
Read Next