CEO's Blog – Q&A with Best British Mobile Startup 2017 finalist, BigChange Apps
Back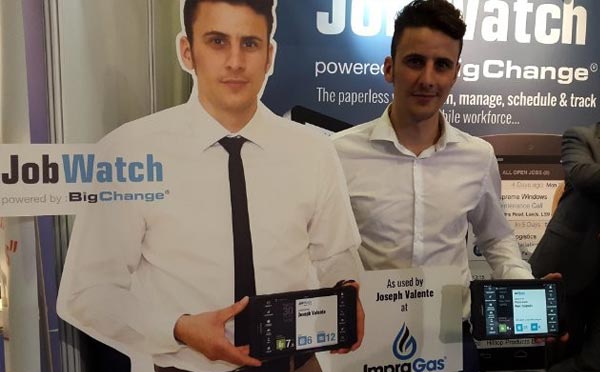 Leeds-based finalist, BigChange specialises in mobile workforce management, and will be heading to Barcelona for the Mobile World Congress in February. Three other finalists will be competing, with only one of them set to be crowned the Best British Mobile Startup of 2017.
Who are BigChange Apps?
BigChange Apps are the next big thing in mobile workforce management. They have brought us JobWatch – an end-to-end solution that can be applied to almost any sector.
Those who sign up to JobWatch can see an increase in productivity and profitability just by using this little web-based app that packs a punch. It even integrates with accountancy software like Sage and Quickbooks for ease of use.
This revolutionary company started out in 2012 and is aiming to transform several industries with its software. The BBMS could be the springboard this company needs to infiltrate the global market.
What did they say about Best British Mobile Startup?
After their success in Leeds, we caught up with BigChange Apps, and this is what they had to say about their experience:
What made you enter the Best British Mobile startup competition?
The opportunity to showcase our business to the judges, and global investors, at the world's largest annual mobile industry gathering was too good to miss! It's a potential game-changer for us, and is something we want to be a part of. The MWC is a hive of innovation and excitement, and the prize itself is an opportunity of a lifetime.
How was your experience of winning the regional competition?
Competition was fierce; there were so many incredible pitches and innovative business ideas and platforms. Having applied previously in 2015, we knew how discerning the judges would be. We were overjoyed when we heard the result – it feels great to have reached the final and is a real credit to our team who have made the app and platform what it is today.
What do you think is the biggest challenge in a startup pitch?
Getting your proposition across concisely, emotively and engagingly in a short amount of time. There's a lot you need to cover – from why it's disruptive, why customers should care about it, to the traction you've already gained. The stakes are high, so you need to keep your cool. Absolute focus and true passion is essential.
How will you prepare for showcasing at Mobile World Congress in Barcelona?
Practise makes perfect! We will sharpen our pitch so we can make a huge impact in the final. We want it to be pitch perfect, but at the same time, we know taking part will be a lot of fun! The main thing is to look forward to this incredible opportunity.
Why will your company become this year's Best British Mobile Startup?
Our product, JobWatch, has a lot to offer the supply side of the business and the end consumer – it's an incredibly attractive proposition. We're one of the first companies to combine a business management platform, an on-demand app for consumers, and a global collaboration network for sharing and sub-contracting work. Our growth in the last few years demonstrates the global potential. BigChange Apps also has great leadership and an energised, passionate team who are on a mission to really make a difference worldwide. These are the qualities that will make us a winner in 2017.
The final's not too far away now. Will this app be a success like former winners RefMe and what3words? We'll find out soon.
POSTED IN FEATURED · TAGGED: BIGCHANGE APPS, KPMGMWC, MWC17, START-UP

Martin Port
Founder & CEO
Read Next