CEO's Blog – Brexit is nothing; Corbyn is the real threat to the UK
Back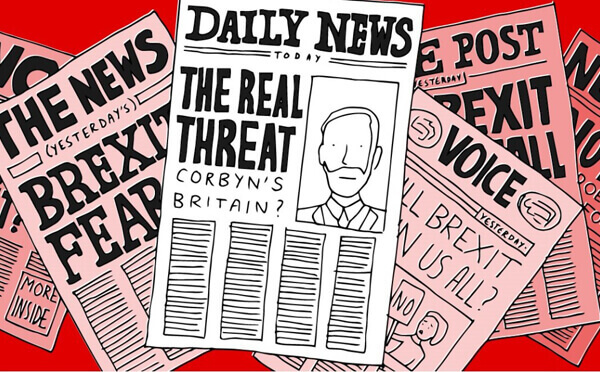 Brexit has dominated the news agenda for the past few years but it is now the least of my worries. Jeremy Corbyn's radical economic agenda is the biggest threat to this country, and to entrepreneurs like me.
What has happened to our political system? The country voted to leave Europe. Whether you support that decision or not, the people have spoken. The duty of Parliament is to carry out that vote. Yet politicians are doing all they can to stall the process. Jeremy Corbyn is using the unrest as a way of bringing about a general election. This is worrying.
If he gets into power, we are in trouble.
Why do entrepreneurs create businesses? Yes, they want to disrupt industries, create new technologies or bring brilliant ideas to life but they also want decent remuneration in exchange for working day and night – and taking the risk of building a company and creating jobs. Corbyn plans to axe Entrepreneurs' Relief if he gets in. This would mean that entrepreneurs in this country will no longer pay 10pc tax when they sell their company; the figure will rise to as much as 50pc.
Just the idea of this tax hike is enough to stifle ambition. I've heard of entrepreneurs trying to sell their businesses now, before a Labour government has the chance to decimate any chance of a financial reward. That means business owners' expansion plans are being cut short – who knows what impact that could have on the UK's economic growth over the next few years? How many new jobs will no longer be created?
Corbyn also plans to nationalise some firms and force entrepreneurs to give out shares to workers. Don't get me wrong – I am all for employee ownership and share options – but we should not be forced to give away our companies. It should be down to the owner of the business. Can you imagine the impact on the stock market if Corbyn seizes power?
This idea of a new ministry for workers rights, which would have powers to imprison company bosses at will, is just going to heap more regulation on UK businesses. The CBI has said that Corbyn's proposals will "turn the UK back decades". The CBI's deputy director-general, Josh Hardie, says: "The vast majority of firms thrive on strong employee engagement, invest in training and prioritise wellbeing. They support jobs, sustainable wage rises and enforcement of employment law. A fundamental re-write of regulation is the last thing the economy needs right now." I couldn't agree more.
Corbyn is an anti-Semitic Marxist and the last person that should be running the country, Give me a "no deal" any day. We survived World War II. Food and medicines still made it onto our island when we were at war. We can survive crashing out on October 31st. I know we would not survive a Corbyn-led government.

Martin Port
Founder & CEO
Read Next