BigChange's 2021 half-year results: Supporting the UK's post-crisis recovery
Back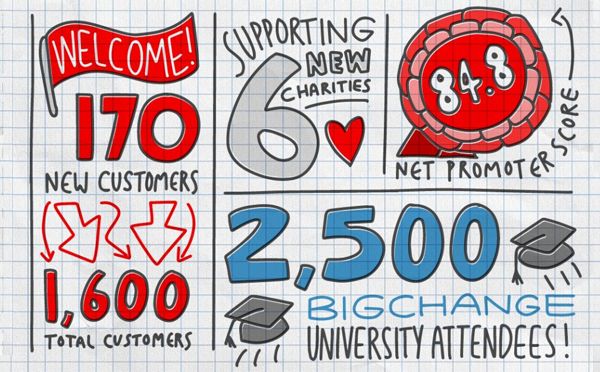 BigChange has had a fantastic start to 2021. Below we highlight the key achievements across the first six months of the year.
Last month, the CBI revealed that Britain's hard-working companies are powering an extraordinary recovery, taking the economy to pre-pandemic levels by the end of the year.
BigChange is among the businesses that are supporting this recovery, creating new jobs at an incredible rate, winning business both at home and abroad, and creating sustainable revenues that will help the nation bounce back from the crisis.
It is with absolute pride that I announce our 2021 half-year results.
People power
We have grown our team to more than 200 people over the last six months. These brilliant new colleagues are part of our sustained investment in BigChange's growth as we continue to build out our capabilities and win new business from customers large and small.
In the second half of this year, we will welcome even more new faces. We are also currently building out our C-suite, bringing in top talent from across the industry to help support our growth ambitions.
Going for growth
During the last six months, BigChange signed more than £12.5m-worth of new contracts. I would like to take this opportunity to welcome all 170 of our new customers – thanks for choosing BigChange.
We now have 1,600 customers in total, with 40,000 users now relying on our technology. What an incredible result from the team!
And we're not done yet. We believe we will surpass 400 new customers by the year-end.
Based on our performance so far this year, this means we are on track to increase revenues by as much as 50% across 2021.
Loyalty and customer success
It's wonderful to welcome so many new customers into the fold but, at BigChange, we never let new business distract us from the important job of cherishing and supporting our existing customer base.
This is why I am so pleased that our repeat orders are exceptionally high, with more than 400 customers increasing their licence base in the past six months.
I am also delighted that we have improved our Net Promoter Score.
At 84.8, this NPS shows that BigChange offers world-class service to customers. If you would like to find out more about how BigChange keeps customers happy and helps them to thrive, please read our new customer testimonials.
Our commitment to innovation
Regular readers of this blog will know that earlier this year I pledged to focus on innovation and the creation of a pipeline of new product features to empower and supercharge the global mobile workforce.
We are making good on that promise, releasing several new features in the coming months. Customers will be able to unleash the power of their data through our data-as-a-service offering, we will also offer customers large and small access to best-in-class business insights and analytics through our eagerly awaited PowerBI reporting built in the BigChange platform.
And we have upped the automation factor in BigChange Pay to take on even more of the grunt work when taking payments.
As always, all our R&D is focused on helping our customers to grow and become more efficient. If there's something you want us to add to the platform, tell us! We have created an ideas portal to allow anyone to suggest updates or new features.
Have you graduated from the BigChange University?
I am over the moon that so many of our customers have attended the BigChange University over the past six months. In total, our sessions saw more than 2,500 attendees.
We created the University as a place where students can learn how to get the most out of the platform and find out about new and exciting functionality.
We continue to improve and update our modules to offer real, tangible value, so if you haven't had a look yet, then book your session today.
Doing our bit for charity
As a business, BigChange is committed to giving back, both to our local community and to charitable organisations that are making a big difference to people's lives across the world.
Last year, we decided to link our Motivational Monday series – our monthly events that welcome inspirational speakers – with charitable giving.
This has been hugely successful and over the last six months, we have welcomed the likes of: Janet Street-Porter, the journalist and media personality; Kevin Sinfield OBE – or Sir Kev – the rugby player and campaigner; Tracey Neville MBE, the netball star who played for and coached the England team; and Benjamin Mee, who bought and reopened Dartmoor Zoo.
Among the charities that the series has supported are: Living Potential Farm, which offers work experience to those with learning difficulties and disabilities; men's mental health charity Andy's Man Club; PhysCap, which works to improve the quality of life of children suffering from severe physical disabilities; Homeless Street Angels, which helps those sleeping on the street of Leeds; the community action charity CATCH, and veterans' charity Help for Heroes.
It's a privilege to be at the helm of a business that is creating so much positive momentum for the economy – and for our customers and community.
Huge congratulations to the team for a job well done. 
Read Next