BigChange celebrates its 10th birthday
Back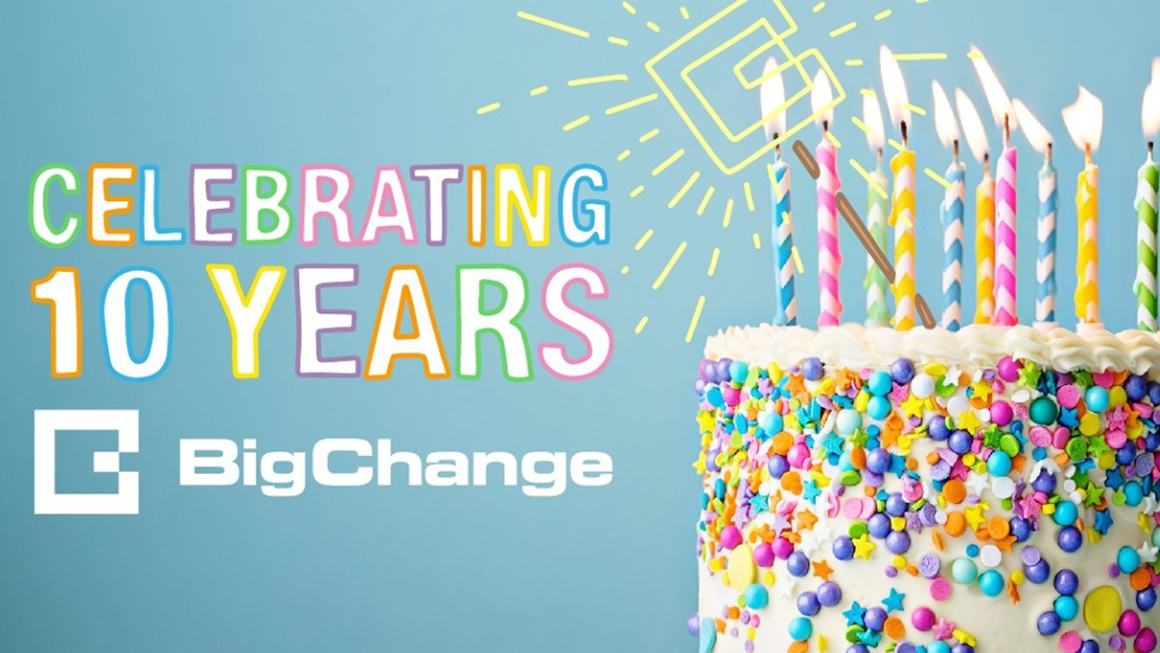 New Year's Day 2023 is a very special time for BigChange: we will celebrate our tenth birthday. In the beginning, it was just me, my wife Amanda, Andrew, Johann, Anthony, Roger, Matt, Edward, Simon, George, Francis, Alex and Jerome. We now employ more than 230 people and almost everyone from that start-up team is still with BigChange today.
It's hard to believe that our first ever business plan aimed for just 100 customers across Europe – and we thought that was ambitious. Our technology now supports 2,000 customers hailing from as far afield as Australia and Canada, with 80,000 users on the platform.
To celebrate this landmark birthday, I'd like to share a bit of our history – a timeline of all the important milestones. It's been an awesome journey!
2011 – The year I sold my last business, Masternaut. But I wasn't ready to retire at 50. I soon began work on a new start-up: BigChange.
2013 – I launch BigChange on New Year's Day. Technologist and co-founder Johann Levy, who developed the first iteration of JobWatch and is still our Head of Innovation today. Watch a younger Martin Port introduce JobWatch https://youtu.be/L2u7TwV_GNA
2014 – Over the past 18 months I have raised over £1m in growth funding.
Revenues grew 300% this year and we really hit our stride.
2015 – We enable one-man bands to grow into national players. Michael Taylor at pest control specialist Contego https://www.linkedin.com/pulse/chairmans-spotlight-michael-taylor-founder-ceo-contego-martin-port/?trk=pulse-article_more-articles_related-content-card began using BigChange this year. In 2022, he employs 140 people.
2016 – BigChange wins the BigChip Award 2016 for best B2B eBusiness project.
2017 – We now have 600 customers, ranging from local councils to utility companies, with 15,000 individuals using the technology. This was the year we won our first international customers in France and the US too.
Listing in the Deloitte Fast 50 Tech Track – a list of the fastest-growing technology firms in the UK. We were the only tech company in Yorkshire to make the Top 50.
We launch our Motivational Monday initiative, inviting inspiring people from all walks of life to come and share their stories with the team. Over the years, we have welcomed Falklands war veteran Simon Weston CBE; Kevin Keegan OBE, football star and manager; and the model turned entrepreneur Caprice.
The year of our office move! Our new headquarters in Thorpe Park Leeds allows us to double our workforce from 70 to 170 over three years.
We feature in the Sunday Times Hiscox Tech Track 100 league table, which ranks Britain's private technology, media and telecoms companies with the fastest-growing sales – we made the ranking in 2019 and 2020 too.
We launch our Road Safety Leaders for Life campaign in Partnership with Brake, the road safety charity.
2019 – BigChange pioneers the 4.5-day working week. Our Flexi Friday initiative was a huge hit with the team.
The BigChange Network launches in April 2019 to make it quicker and easier for organisations to win new business and collaborate with suppliers and contractors.
2020 – BigChange wins the Queens Award for Enterprise in the innovation category. This is one of the highest official honours for companies in the UK.
We launch the BigChange University, pioneering a new online training curriculum and inviting customers to take part in free sessions to learn how to make the most of our technology. More than 2,500 students enrol in that first year.
We hire 30 new team members, despite two national lockdowns and a recession.
2021 – We raise £75m from Boston-based Great Hill Partners. The deal values our business at £100m and supercharged innovation.
I move into a chairman role at BigChange, appointing the brilliant Richard Warley as CEO.
BigChange wins the coveted Best Companies to Work for award, gaining recognition for being an outstanding employer. We also win the Yorkshire Post's Best Company 2021 in the £10m to £50m category. In the GP Bullhound Northern Tech Awards 2021, BigChange is recognised as one of the Top 15 Fastest Growing Larger Technology Companies in the North of England Scotland and Ireland.
2022 – BigChange launches its Channel Partner Programme, which will help to accelerate international growth.
BigChange takes a major step on the road to Net Zero, carrying out its first carbon audit and putting in place a carbon reduction plan. We will be carbon neutral this year through offsetting.
BigChange won Business Enabler of the Year at the Lloyds Bank British Business Excellence Awards, which are the 'Oscars' of business awards.
We also retained our coveted Best Companies to Work for award.
This year, we hit the incredible milestone of £500,000 in charitable contributions.
Over the past decade, we have forged lasting partnerships with some incredible companies. From Sunbelt Rentals, the UK's largest rental equipment company, to household names like Dyno-Rod and public sector organisations like Sheffield City Council. We are the platform that underpins their growth and drives efficiency and productivity. Over the coming years, we will continue to attract more enterprise clients, while also supporting the growth ambitions of smaller companies.
We have done our bit to help some brilliant organisations through our corporate social responsibility scheme, such as: Transaid, the international development charity; Business in the Community; road safety charity Brake; Living Potential Care Farm; national hearing loss charity RNID; and homelessness charity St George's Crypt. Philanthropy will continue to be an important part of our work here at BigChange.
We have a world-beating product, an unbeatable proposition and we are streets ahead of the competition. Over the coming decade, we plan to hit a billion-dollar valuation, and become a "unicorn". Huge thanks to our incredible customers and the first-rate team here at BigChange for a decade of excellence. Here's to the next 10 years.
Read Next