Silentnight Go Greener with a 10% MPG Improvement thanks to BigChange
Back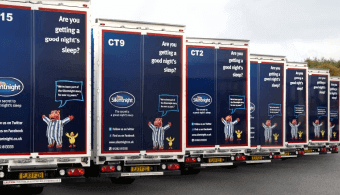 Silentnight Group, the iconic British bed manufacturer has reported improved fleet safety and a 10% improvement in vehicle Miles Per Gallon following the implementation of BigChange's JobWatch system that helps Silentnight Plan, Manage, Schedule and Track their transport operations. The company has rolled out the system to its entire fleet of tractors and trailers and is using the technology to coordinate delivery of their products throughout the UK.
Group Logistics Director Neil Birch chose BigChange after carefully evaluating the market: "Having used vehicle telematics for a number of years, we were looking for something more sophisticated and integrated than just a tracking system. We immediately liked the rich functionality of JobWatch, especially the Driver Safety and Productivity mobile app that we are currently rolling out. The BigChange team gave us real confidence and we now see them as being a key part of our business processes moving forward."
The JobWatch system was implemented as part of Silentnight's new technology programme that seeks to empower drivers, improve safety and fuel efficiency and ensure the brand delivers a consistently fantastic experience for retail and home delivery customers.
Silentnight's integrated JobWatch system combines CANbus connected vehicle telematics, a mobile app for drivers and a cloud based back office used by the transport planning team. At the start of each day, drivers now carry out paperless walk-around checks, logging and photographing defects that are securely logged and alerted.
The app also provides a daily driver scorecard, underpinned by data on MPG, speeding, harsh acceleration and braking, idling and cornering. Rewarding safety and fuel efficiency efforts at Silentnight is not just 'flavour of the month'; driver behaviour is now built into the company's KPI reporting. Meanwhile, integrated truck-nav with live traffic is ensuring that drivers can be quickly re-routed using roads appropriate for the size and height of their vehicle.
Real-time visibility is critical for Silentnight, with their logistics operation making daily deliveries into the Regional Distribution Centres of the UK's largest retailers, explains Neil Birch:
"Everything must be perfect and nothing can be left to chance. Retailers have very strict booking slots so it's critical that we have an up to minute view of progress against the plan 24 hours a day. With JobWatch, our team can anticipate any potential problems before they happen and take proactive steps to ensure that we stay on track."
"The JobWatch app is also enabling our drivers and back-office team to communicate and solve problems in real-time. For example if there's a problem with accessing a customer's property or in the unlikely event of a product fault, the driver can take photos and liaise with customer service in real-time to resolve and ensure a positive customer outcome."
BigChange founder and telematics pioneer Martin Port has had a working relationship with the Silentnight Group for over 10 years;
"Silentnight has always been a fantastic company to work with and I look forward to working with Neil and the team as they continue to roll out their technology strategy," said Martin Port.
Read Next