Sherwoods Builds a Business Case for a BigChange One-Stop Management System
Back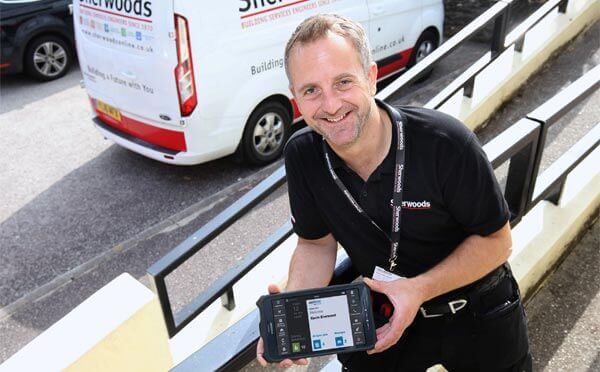 Sherwoods' field service engineers are equipped with the latest ruggedised tablets running a completely paper-free system. The mobiles are live connected to the cloud hosting a complete management solution from BigChange that covers everything from CRM to routing, purchasing, job scheduling, certification and invoicing.
Founded in 1970, with a 48 year history and still family owned, Sherwoods provides a genuine one-stop-shop range of services and has grown to become one of the fastest growing sustainable FM building services providers, covering all of the South West UK. The company has grown organically with successful apprenticeships underpinning growth.
Kevin Sherwood, Managing Director of Sherwoods, comments:
"We invest in people as our primary focus, our people are everything. They are central to our success and our future. Many of our key people started with us as apprentices, with 2 of these apprentices now Directors and owners."
"By coincidence it was the BBC show The Apprentice that increased our interest in BigChange when we read one of the show's winners set up a new business utilising BigChange. We also discovered that the Marketing Manager at BigChange also starred on the show."
Sherwoods has long been an early adopter of technology with vehicle tracking first employed back in 2003, and digital service management software and PDAs employed across all operations since 2007.
Sherwood explains:
"When we saw BigChange for the first time we realised that the JobWatch apps could really help us make a positive difference, and assist our mission to become the FM Building services partner and employer of choice across the UK Southwest region."
"The BigChange team understood logistics and why real time, open, accessible, transparent and visible information is vital to us continuously improving communication, managing compliance and risk, and delivering the best service experience possible for everyone involved throughout the life of a job."
Sherwoods has a 35-strong team of mobile field engineers, residing across the region and working from home providing comprehensive coverage across the UK South West region, including Hampshire, Bristol, South Wales and Cornwall and all postcodes in between. Services include Compliance, PPM, Project, planned & reactive maintenance 24-7 365 days a year.
Being a true one-stop-shop, the Sherwoods' multi-skilled, in-house directly employed team of 50 take care of everything from a permanently manned Opsdesk, roofing, electrical, plumbing, drainage, gas, oil, LPG, HVAC and all exterior and interior building fabric. 'Roof to Drains and everything in between'
Sherwoods' mobile field engineers use JobWatch for everything from timesheets, jobsheets, signature capture and certification – with photographs. JobWatch is used 100% of the time to provide an evidential record of all works, with GDPR compliant, real time data, always available online.
Sherwood added:
"We really like the fact that with JobWatch we write our own workflows and customise it for everything we do. It is a flexible system and being a cloud service, it allows us to grow in line with our sustainability agenda without being burdened by IT capability or capacity."
"The apps and tracking are only one part of what BigChange provides; it is a complete end-to-end solution. BigChange like to call it a 5 in 1 system but it is actually a lot more than that. For us it provides a seamless solution between our office, field, client and suppliers, that is used all the way from initial customer enquiry through all communication to resource management, procurement, service delivery, KPI reporting and invoicing."
With conservative plans to double the business turnover by 2022, Sherwoods work with private and public organisations, with a diversity of clients and sectors that include local, regional, national and international brands.
Sherwood states:
"Our company values are to be adaptable, fun, honest and committed; we live and breathe these values. Those are values we see in BigChange as well, and it makes for a good partnership."
"The team at BigChange are open and transparent and they want their clients to talk to each other to improve each business and their product. JobWatch facilitates our mission and vision and shows our values providing data that is open and accessible. We share GDPR compliant data with our clients; nothing hidden, we are completely transparent, building trust which is also completely central to everything we do, and always will be."
Read Next