Rescue Rod Clears Paperwork Blockage During COVID Lockdown with BigChange Mobile Workforce Management System
Back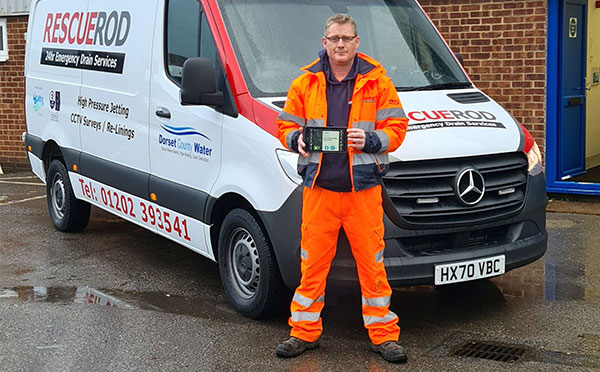 Drainage company Rescue Rod has transformed its business after deploying new mobile working technology from BigChange during the first COVID lockdown. The system enabled the Bournemouth-based company to quickly switch to remote digital working, eliminating paperwork with field engineers equipped with tablets synchronised in real-time with the office.
BigChange, which provides a single platform CRM, job scheduling, mobile app, tracking and customer portal, enabled Rescue Rod to adapt quickly as the COVID crisis evolved. The system was deployed in record time during the first lockdown and within the last 6 months 10,000 jobs have been completed using the system.
Rescue Rod provides drainage services to companies that include Wessex Water, SSE Contracting, South Western Railways, BCP Council and Bournemouth International Airport. With a fleet of vans and specialist HGV vehicles for liquid waste transport and jetting services, Rescue Rod has a team of 25 engineers responding to urgent drainage needs across the south of England.
David Gamblin, Operations Director of Rescue Rod says:
"During the COVID crisis BigChange has been a godsend. We actually starting implementation the same week the March lockdown was imposed. The system allowed us not only continue business as normal but also enabled us to quickly deploy COVID-safe working that would simply have been impossible without a fully digital system".
"We initially chose BigChange as it was not only really good value for money but offered exceptional features, ease of use and adaptability."
Previously Rescue Rod managed their mobile operations with a number of different systems; much of which was paper based. The company relied on text messages and mobile phone calls to manage their field engineers and the whole operation was inundated with paperwork with engineer reports taking days to arrive and then process. David explained:
"Lockdown turned out to be a blessing as it expedited the switch away from paper and the consolidation of a number of different systems into one. With everything on the cloud and 24/7 visibility through live reporting from engineer tablets, we moved from a business that relied on disconnected legacy systems and mountains of paper to a modern, fully digital business – all literally within a few weeks".
There were concerns about training during lockdown with homeworking and social distancing restricting face-to-face training. These concerns were however successfully addressed with the setting up of a COVID safe training area for engineers and online training from BigChange. David concluded:
"We were worried about the fact we'd not be able to get face-to-face product training. BigChange were however quick off the mark setting up a virtual 'university' and online training that turned out to be so good we reckon it was actually better than face-to-face training. It was more focussed and using TeamViewer more personal and very effective".
"The BigChange guys were fantastic throughout and their expertise and skills proved invaluable, quickly overcoming any obstacles we encountered".
Read Next