Metroline Transform Fire and Security Services with BigChange Mobile Working Tech
Back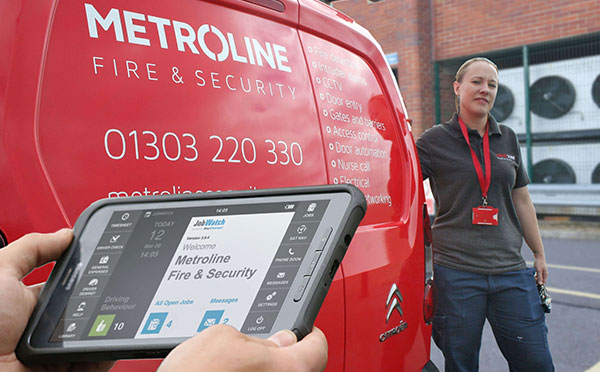 Metroline Fire & Security has implemented high tech mobile workforce management technology from Leeds-based BigChange. The cloud based system that combines back office software with a mobile app has replaced a number of different systems with a real-time management and operational system that has proved invaluable for delivering services during the Coronavirus crisis.
Folkstone-based Metroline Fire & Security design, install and maintain fire alarms, intruder alarms, access control and CCTV systems for commercial and residential clients throughout Kent and East Sussex. The BigChange system, which went live in January 2020, has replaced an ageing job management software and a separate vehicle tracking system.
"BigChange has enabled us to undertake a complete digital transformation of our business, replacing a series of separate systems giving us a single view and total visibility of the business" says Paul Roberts, Director Metroline Fire & Security.
Running a fleet of 25 vehicles – tracked as part of the BigChange system – the company's engineers use JobWatch a 5 in 1 mobile phone app that synchronises in real time with the central office CRM and scheduling system.
Paul commented:
"BigChange has already provided Metroline with significant improvements in productivity and customer service and during the Coronavirus crisis it has allowed us to continue to operate seamlessly with no impact of our ability to deliver our services. On lockdown, everyone could work from home we were able to shut down the office and be up and running at home within one hour."
With BigChange also we can change the way we operate we are looking at ways to stock up vehicles to use the stock facility on JobWatch.
Metroline installation and maintenance engineers receive jobs on their mobiles with the JobWatch app replacing all paperwork with electronic data entry for everything from job sheets, to vehicle checks and risk assessments. Linked to job sheets are photographs captured on site showing completed installations and repairs with control panels to provide evidence of 'all working in order'.
Paul continued:
"The BigChange No Touch Signature Capture App has been especially useful allowing us to gain job sign-off without directly interacting with the customer. With hotels and schools closed our usual contacts are simply not at work with the No Touch feature supported by photos showing work completed we can easily get jobs signed off."
Metroline has seen some immediate benefits in efficiency through improved scheduling and tracking allowing the optimisation of resources through pinpointing of the nearest available engineer and improved route planning to reduce unnecessary mileage.
Read Next