Greys of Ely Brings Peace of Mind to Passengers with BigChange Online Coach Locator
Back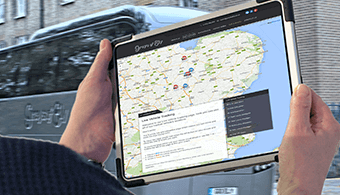 Greys of Ely has employed the latest technology to provide instant locations of each of its coaches, so that customers and passengers can live track their coach through a simple online app. The solution from BigChange Apps integrates on board telematics with mobile apps to power the real-time Coach Locator app on the homepage of the company's website. This gives operations managers a continually updated view of the entire fleet and gives customers detailed information about a specific vehicle.
Richard Grey, Managing Director of Greys of Ely, commented:
"We are one of the few, if not the only coach operator, to share – free of charge, on the homepage of our own website – the real time location of every vehicle. Powered by BigChange, this is extremely useful, not only for our clients, but also for their customers – the end users of the service. We get lots of feedback from parents of children on the daily school run or longer excursions, who love the peace of mind this service offers and appreciate the real time information which allows them to accurately plan drop offs and collections."
The tracking app is part of the JobWatch solution from BigChange. This integrated web-based solution combines back office software, mobile apps and real-time vehicle tracking in one simple to use system. It provides a paperless way to plan, manage, schedule and track Greys' coach hire operation, and it integrates fleet management, a 'driver productivity app' and automated daily driver checks.
"We are long term users of vehicle telematics, and understand the significant business advantages that real time monitoring of the fleet can provide,"
continued Grey.
"However, the integration of the coach tracking app and JobWatch takes this to the next level. We have boosted our customer service beyond expectations, improved driver performance and increased efficiencies across all aspects of the operation. With support from the 24/7 RoadCrew team, we can continue to achieve day to day improvements, maintaining our award-winning service."
BigChange founder and CEO Martin Port added,
"Outstanding customer service is something we aspire to, at all levels, and helping our customers achieve it and helping them to stand out from the crowd is even better. The innovation and business acumen shown by Greys of Ely is akin to our own, and we are proud to work with them."
Contacts:
BigChange Apps: Alex Epstein, [email protected], tel +44 (0)113 457 1000
Reader enquiries: email: [email protected], phone +44 (0)113 457 1000, www.bigchange.com
Read Next