BigChange Transforms Utopia Sales, Service and Delivery platform
Back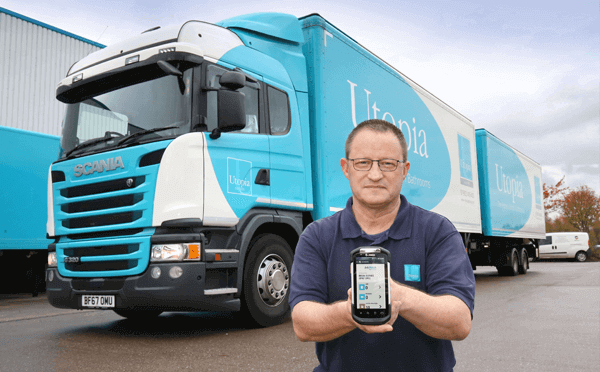 Utopia Furniture Group has rolled out a 5 in 1 cloud-based system from BigChange that combines mobile apps including electronic POD and vehicle tracking, with customer relationship management system (CRM).
After the successful implementation of BigChange as a real-time transport management system, Utopia has now begun extending BigChange to improve back office and sales force automation.
Utopia is the UK's biggest manufacturer of made-to-order bathrooms. Established for over 25 years and employing 190 people, Utopia designs and builds high quality bathroom suites, bathroom furniture and accessories, supplying through an extensive network of over 600 specially selected retailers across the UK and Ireland.
David Conn, MD of Utopia Furniture Group, comments:
"At Utopia, we found a niche in the market with fitted bathrooms and we have always strived to be the Master of what we do,"
"We have developed a unique build-to-order manufacture and logistics business and that requires us to innovate and invest when it comes to technology. It's that technology that ensures we retain a competitive advantage."
Utopia has developed a bespoke enterprise resource planning (ERP) system to underpin its growing business but needed to further automate logistics and especially the transport operation. BigChange was introduced initially to provide electronic Proof of Delivery (POD), having replaced their existing system.
Conn explains:
"When we discovered BigChange we realised that their technology was way ahead of anything else. What particularly appealed to us was the fact that they had an end-to-end solution that would provide seamless integration of our delivery services with our sales, manufacturing and business functions. Previously we suffered from having disconnected silos of data and that was frustrating. BigChange was also much more affordable so we did not hesitate to switch."
Utopia drivers are equipped with Zebra ultra-rugged enterprise touch computers that run the BigChange JobWatch App that includes delivery and collection reporting, with line item fast scanning and electronic proof of delivery ePOD, timesheets, expenses and vehicle inspections. With a 28-strong fleet including drawer bar trailers and drop bodies, deliveries are made to retailers and trade customers across the UK from Utopia's purpose-built manufacturing plant and HQ in Wolverhampton.
Conn adds:
"We really like the fact that BigChange is easy to customise,"
"It means you can get exactly what you want and that's important in view of our fairly unique business process that involves literally thousands of different, often bespoke, items being loaded on each vehicle for delivery. BigChange offers a complete delivery consignment solution."
BigChange has already been implemented to manage all transport related activities, provide real time tracking and electronic PODs, with vehicle inspections, driver performance monitoring and a link to route optimisation through comparing actual with planned journeys. With integration between Utopia's delivery planning and Oracle ERP, BigChange CRM is now being implemented to manage the sales function.
Carl Darby, IT and CRM Controller at Utopia, says:
"BigChange CRM is perfect for us providing exactly the functionality we need. It's a lot easier to use and less costly than other solutions,"
"Of course, it is also part of the wider BigChange management and mobile solution so has the added benefit of being seamlessly integrated with everything we do."
With the adaptability and wide scope of the BigChange system, Utopia took advantage of help offered by BigChange for implementation and embedding.
Darby who also praised the ongoing support, continues:
"This suddenly made implementation much easier,"
Darby adds:
"The support provided by the BigChange 'RoadCrew' team has been exemplary, with someone always available to pick up the phone 24/7 and that support is available to anyone including our drivers. Getting that level of personal support is a rare thing these days."
Conn explains:
"We set a high bar when it comes to our suppliers and for us it is very much about a working partnership. BigChange demonstrated that they wanted to be part of our business and from the start it was clear they were receptive to working with us. In fact, we were behind the development of their POD solution and were the first adopters of it."
Read Next