BigChange Technology Transforms H2O FlowTech's Mobile Engineer Services
Back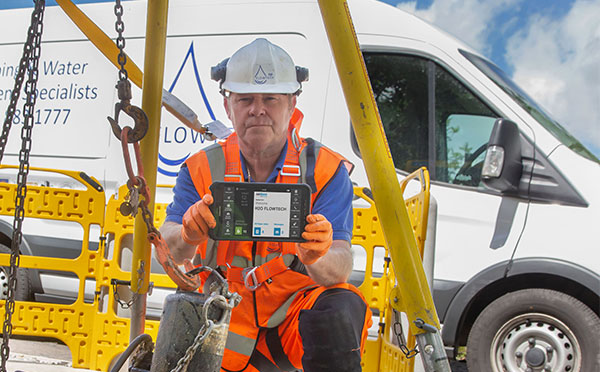 H2O FlowTech has successfully rolled out the latest mobile workforce management technology from Leeds-based BigChange.
As part of a digital transformation replacing paper throughout the company, the new system combines back office management software with a mobile app to support rapid expansion of H2O's business.
H2O specialise in the installation, maintenance and repair of pumps, pumping stations and sewage treatment plants. The Bury-based company looks after over 600 different pumping stations, operating in the North West in an area extending from North Wales to Yorkshire, Cumbria and Midlands.
Private pumping stations and treatment plants – usually buried underground – are owned by local authorities, commercial property companies and private estate owners. With new waste legislation coming into force in January 2020 to limit the use of certain types of septic tanks, H2O has seen a surge in business for plants that treat sewage and discharge clean, safe water.
Mick Brindle, Director, H2O FlowTech commented:
"Our largely paper based system was cumbersome and slow, and dealing with paper forms was difficult outdoors in poor weather. With the increasing demand for our equipment and services we knew we'd be overwhelmed with paperwork if we didn't switch to a digital system,"
H2O vans are fitted with BigChange vehicle trackers and the two-person teams use JobWatch the 5 in 1 app that provides digital versions of all paper forms. JobWatch synchronises in real time with the office giving H2O operations complete 24/7 visibility of engineer movements and job status.
Lead engineers are equipped with rugged tablets and their assistants run the app on their mobile phones. Photographs taken on site for evidence of work completed such as newly installed pumps and control panels are provided as part of instant digital reports to customers.
Mick continued:
"With BigChange we've considerably increased our turnover without needing any extra staff. We are more productive and have much better visibility. The data is all collected in one hit and this is a big improvement and the digital job reporting is a tremendous step up – customers are very
impressed especially with the supporting photos from site showing work completed."
H2O are finding BigChange is very useful for emergency work. If there is an equipment breakdown a job is created and simply dragged into the scheduler which instantly schedules the work. JobWatch also provides access to records of previous work done at a site which is proving a real asset to engineers arriving on a job.
H2O see BigChange as important for expanding allowing the company to work nationally. The system is also seen as key to securing and winning larger contracts with facilities management companies who need to provide electronic records to their customers.
Mick explained:
"With BigChange everything is at our fingertips and it is synchronised with Sage giving us total visibility of the business – margins on jobs, cash flow and we can keep a close eye on quotes and invoicing. From our mobiles we can immediately see what's going on across the business including the status of every job. This means we can work from anywhere"
Mick concluded:
"In fact during Coronavirus lockdown we'd have been completely floored without BigChange. If we'd still been paper-based we simply couldn't have done our job – as things were customers did not see any change at all."
Read Next