BigChange Simplifies COVID-19 Working at Home for CCR Property Services
Back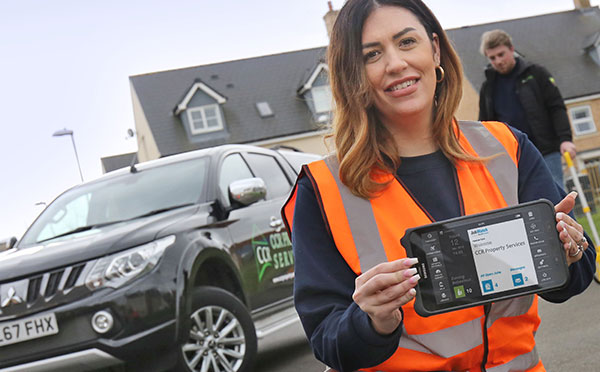 CCR Property Services has transformed its business overnight with a switch to paperless mobile and COVID-19 home working using a cloud-based office and mobile workforce system from BigChange.
The Essex-based company provides essential property maintenance services such as emergency drainage and plumbing repairs for sectors that include social housing, hospitals and care homes.
Established in 2011 CCR has achieved preferred supplier status amongst key blue-chip property and facilities management companies and is also an approved contractor to local authorities, housing associations and health authorities. Specialising in drainage network repairs and cleaning, CCR operate a fleet of specialist vehicles and plant on call 24 hours a day, 365 days a year.
CCR has equipped its mobile workforce with rugged tablets running JobWatch, the 5 in 1 mobile app from BigChange. The app synchronises in real time CCR's office system that is normally accessed at the CCR head office in Basildon, Essex. The BigChange back office software which includes CRM, job scheduling and invoicing is cloud based which means that virtually the entire business is currently being run with staff and management working from home.
Reiss Monksfield, Director, CCR Property Services comments:
"Well before the Coronavirus crisis we had realised the potential of BigChange for flexible home working,"
"After our vitally-important accounts person finished maternity leave and wanted to spend more time at home we were able to accommodate flexible-hour, part-time home working. With the all the required software and data accessible online the accounting work has continued pretty much seamlessly with one less person in the office,"
"Now with the threat from COVID-19 we have sent virtually all the office staff home and it really is business as usual. Those living in the properties we service are often vulnerable so our emergency services are essential and with BigChange we can all be in control and run services remotely. I've no idea how we would have managed without a single cloud and mobile solution; BigChange really is paying dividends in this crisis,"
CCR was an early adopter of BigChange having realised that a single system that could perform both office and field service functions seamlessly was the way forward. The company had previously tried to deploy other systems but they failed to provide the scope, flexibility and modern technology considered to be crucial for supporting future business competitiveness and growth.
BigChange first went live in Spring 2018 and provide an all-in-one solution having replaced a number of different systems. As well as the tablets used by operatives, the fleet is fitted with BigChange trackers providing a real time view of the operation, allowing CCR to respond as efficiently and quickly as possible to call outs around the clock.
Monksfield continued:
"In just two years we've almost doubled our turnover and BigChange has allowed us to grow without increasing our administrative resources. In fact we have even more time now; no more scanning of paper reports, no more calling operatives to see where they are and no more sifting through piles of paperwork. We are working so much more efficiently and the business has been streamlined,"
Monksfield added:
"We particularly like the way the system is designed. It's generic but easy to customise. However, the biggest thing about BigChange is what you get for the money. The benefits far outweigh the cost; it is great value and with their RoadCrew support team you also get brilliant 24/7support,"
In providing round the clock service, companies like CCR would traditionally sign up the services of a 24 hours call centre to manage out of hours calls. By deploying BigChange this need was negated as CCR could simply direct calls to their team of out of hours call handlers. This not only saves cost and complication but by cutting out a link in the chain it also enables a quicker response.
Monksfield explained:
"The system is also very good for customer service and clients can be kept informed of where we are and they can get job updates in two to three minutes. We are more efficient and more productive so as a company we can also provide better value which customers like".
Read Next