BigChange Mobile Technology Transforms Cinderella
Back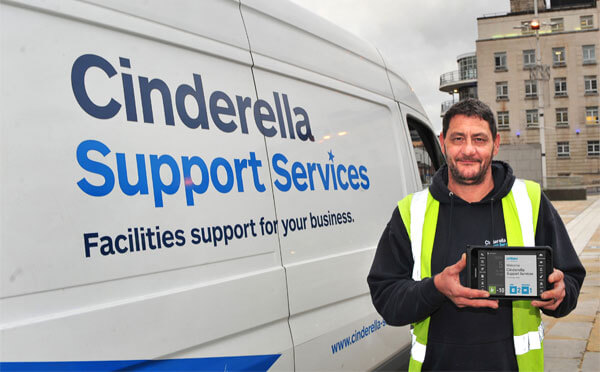 Cinderella Support Service, the nationwide provider of facilities management and building cleaning services, has boosted its business by £100k a year following the introduction of a new mobile system.

Using the latest mobile workforce management technology from Leeds-based BigChange, Cinderella has equipped its mobile teams with rugged tablets as part a group-wide transformation from paper to digital working.
Established 26 years ago, Cinderella became one of the UK's premier building cleaning companies but has since diversified into facilities management services. Headquartered in Sheffield with 6 depots nationwide and over 160 mobile workers, BigChange was introduced to underpin facilities sector business expansion currently running at 30 percent a year.
Phil Goleby, Managing Director of Cinderella Support Services said:
"Since switching to digital working the Cinderella business has been completely transformed, BigChange has already generated an additional £100k of business a year but that's just a start. We are already winning business with some of the UK's biggest names and BigChange gives us a winning capability. Everyone is really impressed with the easy to access, real time digital information that the system provides."
Initially Cinderella used BigChange vehicle tracking but the biggest benefits are now being realised following the implementation of the complete BigChange 5 in 1 solution; a single platform CRM, job scheduling, mobile app, tracking and customer portal.
Cinderella finds the customer portal particularly useful according to Goleby.
"The customer portal is a fantastic addition as it seamlessly connects us to our customers. They can go online and book a service, check on any jobs and their invoices. It is giving us a real competitive edge especially in the facilities area which is where we are growing rapidly."
Cinderella's field service teams receive jobs on their tablets which synchronise in real time with the BigChange back office systems to give operations, customer services and management real-time visibility of all jobs. The tablets are used to complete all tasks electronically from vehicle inspections to site safety surveys, job cards and customer sign offs – all supported with photographs and tracking logs to give a complete and instant view of jobs.
Cinderella has also configured BigChange as an asset management system that includes the locations of all plant and equipment. All equipment is now barcoded for automatic identification by scanning with the JobWatch app on a phone or tablet and the system also manages parts and stocks.
Goleby Added:
"BigChange gives us a level of control over our business that we simply didn't have before. We now know where everything and everyone is and the system makes sure procedures are followed and data is recorded so nothing is missed. That just ensures everything is billed correctly and quickly which improves profitability and cash flow".
Despite the growth in facilities management Cinderella remains one of the UK specialists in high rise building cleaning with their own fleet of Mobile Elevated Working Platforms (MEWPS) up to 90 metres. Aside of window cleaning, Cinderella has ground maintenance, cleaning and reactive maintenance services and is a preferred supplier to many blue chip and government organisations.
Read Next