BigChange JobWatch takes ALTIDA Crane Hire to New Heights
Back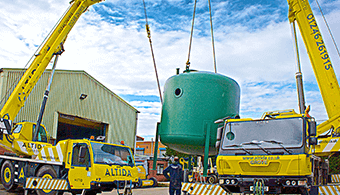 Mobile crane hire company ALTIDA is improving the efficiency of its transport operations with a Mobile Workforce Management solution from BigChange. Used to schedule, route and monitor the company's fleet of mobile cranes and lifting gear, the single platform back office, mobile app and tracking solution is already reducing administration, improving customer service and supporting financial control. With the significant management benefits provided by JobWatch, the system is set to underpin major expansion of the business being planned later this year.
"Prior to the introduction of JobWatch we relied on paper – paper planning, paper maps, paper time sheets, paper service reports, paper invoices," commented Shane Stephen Hill, Group Operations Manager at Chesterfield based ALTIDA. "With JobWatch this is now all automated. A schedule is created, routes produced and communicated to drivers via their PDA's. We can monitor vehicles and driver behaviour, accurately record onsite activity and answer customer queries promptly. This is reducing back office administration, improving the efficiency of our mobile operation and supporting business growth."
ALTIDA uses JobWatch to schedule and route its fleet of mobile cranes, lifting gear and supporting service team. By automating the scheduling and communication of hire contracts and service requests, ALTIDA has reduced back office administration and improved route planning, allowing drivers to amend and share sometimes otherwise unmapped or hard to find locations with other drivers. This is already realising improvements in efficiency and reducing unnecessary mileage.
With real time monitoring of vehicles and driver behaviour, ALTIDA is also able to respond quickly to queries or requests from either drivers or customers, and accurately record onsite activity for more precise invoicing. The automation of timesheets and invoicing is also improving cash flow through the business, as the accounts department no longer has to wait for driver operators to return to base to get timesheet information.
"Although we are already achieving a return on our investment, we are just scratching the surface of the enormous functionality offered by JobWatch," continued Shane. "With the ongoing support of BigChange, especially the 24/7 RoadCrew team, we know we have the management processes and infrastructure to support growth and an expansion in services offered."
BigChange founder and CEO Martin Port added, "ALTIDA is an ambitious company with exciting plans for the future and we are delighted to support them as they continue to grow and diversify."
Read Next