BigChange Gives MHL Heating Engineers the Optimum Route to National Expansion
Back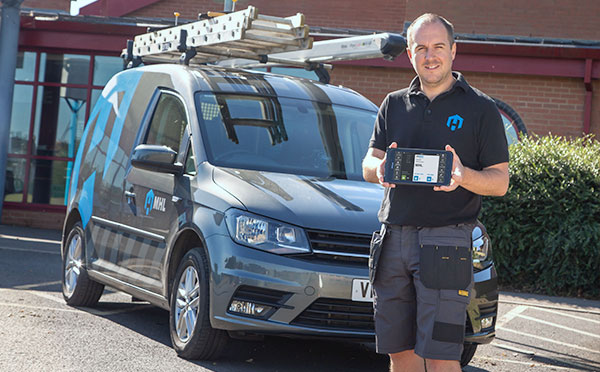 Gas, heating and boiler engineering company Moorhouse Heating Limited (MHL) has transformed from a regional to national business following the introduction of a new mobile workforce management technology from Leeds-based BigChange.
MHL engineers use a 5 in 1 mobile app called JobWatch that replaces all paperwork and synchronises in real-time with centralised management software; part of an end-to-end and cloud-based system from BigChange.
Since introducing BigChange two years ago MHL has doubled its turnover and tripled its field service engineering team without needing additional staff in the office. Originally servicing the local domestic market, the Gloucestershire headquartered company made a strategic move into the commercial sector recruiting gas and boiler experts as part of a nationwide wide network of sub-contractors.
Tim Moorhouse, Managing Director of MHL says:
Introducing BigChange was crucial to supporting our expansion into the commercial sector and nationally. We needed to transform the way we worked, eliminating paperwork and automating using the best-in-market digital platform – something that would remove any barriers to expanding and winning new business.
In expanding nationally, MHL set out to outsource as much work as possible and in order to manage the expansion centralisation, synchronisation and standardisation of reporting and procedures was seen as crucial. Through the integrated cloud and mobile system from BigChange, the company has the same management control, visibility and customer service capability as it would have with fully employed personnel, but with much greater business agility.
Newly appointed engineers simply download the JobWatch app onto their phone and they are immediately equipped to do everything electronically. It means subcontractors get the benefit of the app complete with tracking and navigation, electronic data capture and electronic signature sign off, seamlessly linked to MHL's central system.
"The JobWatch subcontractor app is truly awesome. Our engineers are connected in real time to receive and complete jobs including digital certifications. For our clients, everything is completely seamless and with instant, fully digital reporting including photographs from site, we can meet even the most stringent reporting requirements including those of facilities management who in turn have to report to their own clients."
"BigChange has been a great success and with the recent Coronavirus lockdown we would have struggled without the system – we were able instantly switch to home working. And we've made the most of the time to transform the business. In terms of administration I reckon we'll be 90 per cent more efficient when we get back to full operations."
MHL are an award-winning team of gas, heating and boiler experts specialising in the service, repair and installation of boilers, heating systems, gas appliances and controls. Still providing services to domestic clients across Oxfordshire and Gloucestershire, MHL's UK wide growth is in the commercial sectors with clients that include schools, councils, universities, restaurants and hotels.
Read Next