BigChange Gives Hatton Traffic Complete Control Over Mobile Workforce
Back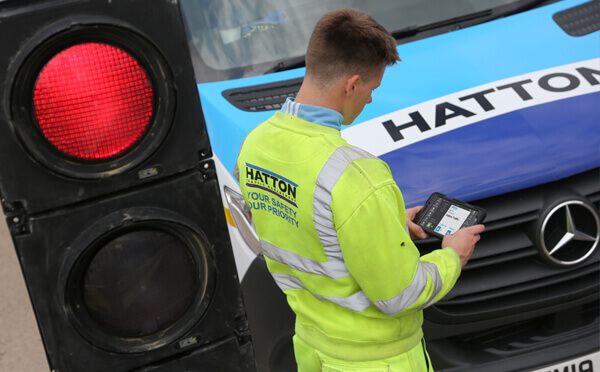 Hatton Traffic Management is rolling out the latest mobile technology as part of a resource management system connecting field operatives to fleet controllers in real time.
Supplied by Leeds IT company BigChange, the system is already providing significant improvements in efficiency and service with a switch to digital working and the elimination of paperwork.
Based in the North East, Hatton Traffic Management operates nationwide from 10 locations and provides complete range of traffic management systems for anything from motorway closures to city wide event traffic management, rail crossings and portable traffic light control. Working with local authorities, event organisers, highways agencies and many of the UK's largest infrastructure companies, with clients from Balfour Beatty to the BBC.
With the rapid expansion of the business in recent years, Hatton Traffic Management has expanded its portfolio of services to include permanent sign supply and installation, mobile elevated work platform services, and equipment hire and sales. Hatton is also one of only a limited number of companies in the UK offering both temporary and permanent Vehicle Restraint Systems (VRS).
Simon Watton, Software Developer, Hatton Traffic Management says:
"As the company expanded we outgrew our previous IT system and began an exhaustive search for something that would handle our diverse needs. We found systems were very good at one thing but were unable to handle other aspects of our work; we really wanted a single system to manage everything. It soon became clear that BigChange was the only supplier that offered the flexibility we needed,"
Once quoted work is accepted, schedulers at each location automatically receive job details for their region.
Watton says:
"That's a really useful feature."
"Each depot simply has visibility of their jobs but centrally we see the whole picture."
Hatton currently has 107 field operatives and once jobs are scheduled and allocated, the appropriate operative receives the job on their rugged tablets. The tablets run the BigChange 5 in 1 app called JobWatch which replaces traditional worksheets and an array of cumbersome paperwork that operatives used to have to carry and complete.
Hatton operates a fleet that include hybrid cars, euro 6 drop side vans and impact protection vehicles. All vehicles are equipped with dashboard cradles for the tablets that provide routing and navigation. On site tablets are unclipped and used for risk assessment ensuring operatives complete a safety and procedural check list before proceeding. The tablets are used for photographing the site on arrival and throughout the job through to the final off-hire equipment collection.
Darren Ryan, Regional Manager, Hatton Traffic Management says:
"Previously it took ages to get back all the paperwork but now it's all digital everything is much faster and our operatives don't need to come into the depot before starting a job."
Watton adds:
"There are so many variables in traffic management and any number of different parties are involved introducing factors beyond our control. BigChange gives us – and our clients – a level of visibility that really has transformed our service and made things a lot easier to manage."
The BigChange solution is entirely cloud-based providing easy access anywhere, anytime and this has made roll out nationally straightforward. The fleet is also equipped with BigChange satellite trackers so Hatton always know where everyone is so customers can be kept informed. Historical tracking data – linked to the worksheets and photographs is also proving useful for handling customer queries and as a check for invoicing and timesheets. JobWatch is also used for vehicle checks and to assess driver performance with the flagging up of excessive idling, speed and harsh braking.
Watton says:
"Our work is very diverse and different clients have different guidelines and procedures. This is where the BigChange solution is particularly good as we can tailor workflows, worksheets and anything else depending on the type of job and customer requirements. We also like the fact that the system is being continually evolved."
JobWatch also provides access to a document library giving operatives instant access to all documentation relating to a job; vehicle cabs are no longer cluttered with reams of paperwork.
In terms of benefits the system is still being rolled out nationally but for those now implemented Hatton reports significant benefits in efficiency, service and cost savings.
Watton says:
"It's too early to quantify savings but BigChange is clearly providing big improvements in efficiency. Just the fact that operatives can go straight to site is saving on miles and fuel and allowing more jobs to be done on any given day. Ridding everyone of paperwork has similarly boosted productivity – both in the office and in the field."
Tom Bailey, Managing Director of Hatton Traffic Management comments:
"As a family-owned and family-run business, we pride ourselves in being able to adapt quickly and provide innovative solutions to client's operational needs. With the BigChange system now being rolled out nationally we have in place the latest generation technology that is already providing significant benefits to our efficiency and service."
Read Next