BigChange Gives Fireward Complete Control Over Mobile Workforce
Back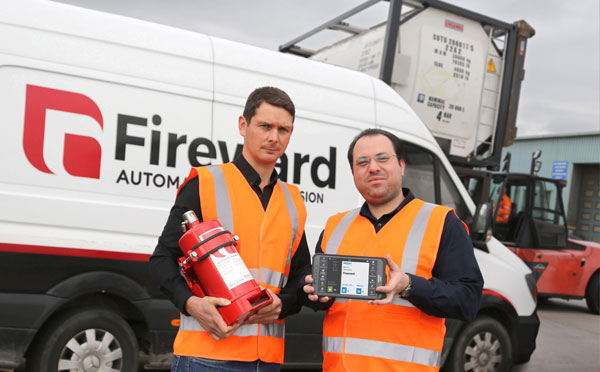 Automatic fire suppression specialist, Fireward Ltd, has rolled out high-tech mobile workforce management software, providing real-time visibility to field operations within the business.
The App-based software, JobWatch sees field-based engineers equipped with rugged tablets, replacing all need for physical paperwork, delivering a 5-in-1 business solution incorporating a CRM, job scheduling, tracking, invoicing and management reporting.
Formed in 2009, Fireward is regarded as the UK's leading specialist in fire suppression systems for mobile and heavy plant machinery and equipment. The Chelmsford-based company installs, maintains and services systems manufactured by Reacton Fire Suppression Ltd, which detects and suppresses fires in a matter of seconds. Requiring no electricity to operate and with exceptional reliability, Fireward's fire suppression systems protect a wide range of high-value assets from plant machinery & equipment to electrical control panels, buses & coaches to airport ground support equipment.
Edward Barnes, CEO of Fireward commented:
"Fire is often overlooked as a cause of disruption and as a serious risk to the business itself. The immediate physical damage is only part of the problem caused by a fire; the costs of operational disruption and reputational damage often far exceed the cost of the original damage. Without adequate protection, it can take just a matter of minutes to bring a company to its knees."
Fireward's certified engineers install, maintain and service fire suppression systems across the UK. Providing a rapid response service, engineers use their tablets, for everything from risk assessment and post-fire reports to job checklists and vehicle inspections.
Barnes, comments:
"We were pleased to discover BigChange at a show back in 2016. We had been through a long and unsuccessful process trying to get three different systems working for our business and all had failed. Due to the ease of set-up, we were able to implement the system ourselves in just two weeks,"
"With BigChange we now have a system that supports our business model providing many benefits in terms of efficiency, productivity and customer service."
Fireward's fleet of nationwide vehicles is fitted with BigChange trackers, providing the customer service team with full visibility of engineer locations and a record of arrival and departure times from site. The location and condition of plant and other assets are key factors in assessing the risk of fire and the tablets are used to record 'time and location' linked photographs. With the ability to capture a customer's signature 'on-screen' via the app, there is immediate proof of every job completed, allowing for a streamlined invoicing process resulting in fewer billing queries.
Barnes adds:
"BigChange supports our company ethos, which we achieve with a modest team in place. JobWatch has not only allowed us to do five times more services a month but has allowed us to freely expand our business where we are now installing well in excess of 1200 new systems a year,"
Some of the favoured features by the Fireward team include the job allocation and scheduling features of the system, which sees 'jobs' added to an 'unscheduled' list, allowing for all outstanding jobs to be reviewed in one place before allocation, depending on engineer location and availability.
The CRM software meanwhile has become a useful tool for the Fireward sales team. As well as allowing customer locations to be pinpointed to aid streamlining customer visits, the team has utilised the BigChange software to connect a comprehensive list of plant machinery and equipment to a correctly specified fire suppression system, allowing for fast and accurate quotations.
With the Fireward engineers working remotely across the UK, they need to have the ability to effectively manage their stock levels without causing downtime and potential loss of business. With the help of the JobWatch tablet, engineers are now able to track and replenish their van stocks with ease, as well as the ability to record and review all stock movements, parts and equipment used during the process of installation, maintenance and servicing of Fireward's fire suppression systems.
Read Next