BigChange Gives a 25 Percent Efficiency Boost to Gas Smart Heating
Back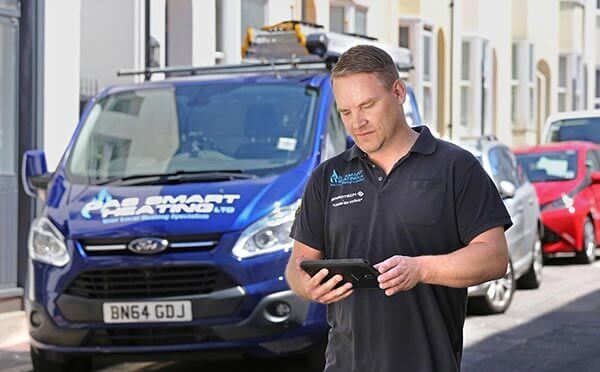 Gas Smart Heating has rolled out a high tech mobile workforce system as part of a paperless management system. A specialist in domestic heating and plumbing, Gas Smart Heating Ltd has equipped its field engineers with tablets running jobWatch, a 5 in 1 app supplied by BigChange.
Incorporating vehicle tracking with real time job reporting via the tablets, the system provides Gas Smart Heating with a complete end to end business solution.
With a team of highly trained engineers and headquarters based in Brighton, Gas Smart Heating provides reactive gas and plumbing maintenance including boiler and appliance installation. Formed just 5 years ago the company wanted to introduce the latest technology to underpin further expansion. The BigChange system has replaced existing software and paper-based systems, eliminating paperwork throughout the business.
Steven Cahalane, Director, Gas Smart Heating says:
"At the start we were only partly automated and crucial details on customers and appointments were simply scribbled on pieces of paper and calendars. As we began to grow and recruit more engineers, we realised we needed a much more professional system. We wanted to be able to match larger service providers such as British Gas and that's when we started looking for a new system,"
Previously Gas Smart Heating had a system that provided digital job sheets but according to Cahalane it was very much a packaged solution with fixed job worksheets designed for a sole trader.
"Our old system was fine at the start but as we began to recruit more engineers it was clearly not up to the job. What we really wanted was a single system that would do everything. It was clear from the outset that BigChange offered something that fitted the bill exactly."
In the office, Gas Smart Heating use JobWatch to log incoming calls, schedule work with jobs sent electronically to the assigned engineers' tablet. With real-time data from the job, the office is always kept in the picture and can quickly resolve any issues – with invoices generally raised on the day of job completion
Cahalane says:
"The thing about BigChange is that it can match the functionality of systems costing hundreds of thousands of pounds used by national utility firms. This allows new independent players like Gas Smart Heating to enter the market and match the levels of service provided by the traditional suppliers,"
Gas Smart Heating Ltd realised that in order to compete effectively with the large national suppliers and to set them apart from their local competitors, customer service was going to be key. JobWatch is being used to provide the best customer interaction possible including immediate email booking confirmations including name and photograph of the assigned engineer.
Operationally, JobWatch has been implemented to provide information on appliances and job history information so engineers have visibility of previous faults and work done. The system also manages stocks and parts purchasing so engineers no longer face delays on jobs waiting on parts. With real time communication with the office, any additional work needed on site can also be quoted and agreed for completion while still onsite.
Cahalane explains:
"The job history and stock management applications with JobWatch have made a big difference. It means first time job completion rates are much better. In turn our engineers are happier as there are fewer frustrating delays waiting for parts and customers are happier as the work gets done first time without the need to arrange another visit,"
Health and safety is a big issue in the service industry and Gas Smart Heating are finding that JobWatch is helping with safety and compliance. Engineers can immediately record any safety issues onsite with supporting time and location stamped photographs. The system also provides onsite risk assessment workflows and electronic certificates.
As part of JobWatch vans are fitted with satellite tracking. Previously engineers were being called to check on their whereabouts but the system has eliminated that by providing email or text ETA alerts to keep the customer informed on the day. Customers are also able to track engineers progress via a link they receive by Gas Smart heating, allowing them to get on with their day without fear of missing the engineer.
Cahalane explains:
"With BigChange we are simply a lot more organised."
"With satellite tracking data we can ensure engineers are paid accurately for their working day and overtime. Customer service has really benefitted as well – proof of service is very important especially when dealing with the high expectations of consumers. The tracking and live reporting also helps eliminate and resolve disputes, with quick and accurate invoicing that ensures we get paid quickly."
Cahalane adds:
"In implementing the BigChange system we wanted to get in early with the latest technology and as state-of-the-art professional software it gives us a crucial competitive edge in the market. With JobWatch we are probably 25 percent more efficient; without it we need more office staff and I would be overwhelmed with administration tasks and paperwork. In fact, we simply wouldn't be able to compete,"
"However, we see the biggest benefits being realised in the future. Because of the flexibility of the system we can configure it to take on contract work that we could not really do before such as insurance-related work. In addition we can expand freely and the system is easily expandable, accessible and relatively affordable."
Read Next