BigChange Drives 40% Growth with Paperless Working at Flow Free Drainage
Back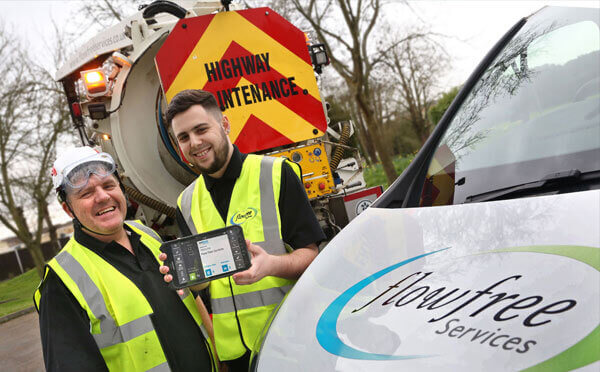 Flow Free Drainage has deployed the latest mobile worker and cloud technology as part of a paperless system that connects mobile apps to back-office management software. With the JobWatch system from BigChange, Flow Free has achieved 40 percent annual growth with an actual reduction in office administration resources.
With the JobWatch system from BigChange, Flow Free has achieved 40 percent annual growth with an actual reduction in office administration resources.
The 5 in 1 BigChange solution combines customer service (CRM), job scheduling and invoicing software with real-time vehicle tracking and smartphone apps. With a fleet of 18 vehicles and a team of field service engineers covering mainly the South East of England, Flow Free maintain and repair drainage systems.
Flow Free are part of Property Consortium Drainage, a network of drainage specialists undertaking insurance-related work. Operating from new headquarters on the Hertfordshire-Essex border, the company also has national contracts with major retailers and land owners.
Steven Cornelius, Managing Director of Flow Free Drainage, says:
"BigChange provides us with a single system to manage the entire business digitally, from the initial call out to invoicing and management reporting. It really has revolutionised the way we work and had a very significant impact on our efficiency and productivity."
"We started using JobWatch 18 months ago and last year we grew the business by 40 percent; even though we actually reduced numbers of staff in the office."
Operating 24/7 year-round, Flow Free work to stringent Service Level Agreements with guaranteed fast response times dealing with burst pipes, blocked drains and leaks causing disruption and damage to premises. Flow Free has expanded into building services in order to undertake remedial and other maintenance work for clients.
Using the BigChange back-office Flow Free log incoming calls on the CRM for optimised scheduling of the most suitable resource by skill, equipment and location. Work is further complicated as different clients have different SLA's.
Cornelius comments:
"JobWatch handles all this complexity brilliantly as we can easily set up different job sheets with the appropriate service conditions, certifications and other reports."
JobWatch has also helped speed up quotations and invoicing. As Job Sheets are completed by engineers onsite, the office is immediately notified of any additional service requirements and quotations are raised with 24 hours; less if the material requirements are simple.
Cornelius says:
"Being real-time and paperless, JobWatch has dramatically reduced administrative work. Five or six people used to be tied up managing jobs, generating quotes and invoices manually. Now we can deal with typically 60 jobs a day with just two people involved. That frees up time for customer service and sales work and is central to our plans to grow the business,"
"Things are just better controlled and quicker; one client couldn't believe we could actually send out an invoice within an hour of the job being completed!"
Flow Free is also using BigChange to improve its environmental and safety credentials. With vans clocking up 40.000 miles year, the BigChange tracking devices are providing valuable data to reduce fuel consumption – and the carbon footprint – through better job planning, route optimisation and better driving.
Cornelius explains:
"One major benefit of BigChange has been the notable improvements in driving,"
"The simple fact that our engineers do so many miles mean that the chances of damage to a vehicle – even if not our fault – is going to be higher. So to reduce risk we monitor driving performance with a reward for the best driver each month. We have seen a 25 per cent improvement in driving and less accidents, leading to lower insurance premiums."
Read Next