BigChange Digital Transformation Secures Cyclehoop's On-Street Cycle Parking Revolution
Back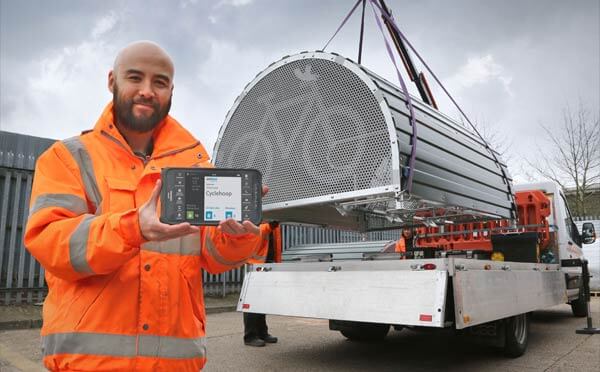 Cyclehoop, the innovator of secure on-street cycle parking solutions, has introduced the latest mobile technology as part of a cloud-based mobile resources management system from BigChange.
Using tablets and phones running a mobile app called JobWatch, field operatives synchronise in real time with the office as part of a completely paperless management system that has transformed productivity and allowed Cyclehoop to rapidly expand their business.
Cyclehoop's award winning innovations have transformed cycling in cities across Britain and 16 countries worldwide by providing secure on-street parking for bicycles. Founder Anthony Lau came up with the idea after his bicycle was stolen and designed the company's first product, the Cyclehoop, in 2008.  Today the company's secure cycle parking solutions include Bikehangars®, shelters, hubs and racks as well as cycling infrastructure and accessories.
Prior to the introduction of JobWatch, Cyclehoop relied on paper records to manage orders, installation and servicing.  As the company grew, more and more time was spent dealing with paper and with an increasing burden on staff and management it was decided some drastic action was needed if the company was going to meet the growing demand for its products and services.
Mike Tsui, Projects Manager, Cyclehoop commented:
"When I arrived at Cyclehoop in 2017 everything was paper-based and it was very time consuming; we just couldn't keep up with all paperwork,"
"We were losing hours every day dealing with the paperwork administration and we had issues finding the right records when we needed them. For each job we had to print out 4 or 5 sheets of paper and that was very inefficient – nor did it fit well with a company that strives to be environmentally friendly. In the end BigChange saved the day by allowing us to quickly move to digital working. Once JobWatch went live it was a huge relief and transformed everything."
Cyclehoop work in the public, commercial, transport, education, healthcare and other sectors and the company's award-winning products have been installed around the world helping cities become more cycle friendly, healthy and sustainable.
Cyclehoop's iconic and critically acclaimed Bikehangar® takes just half a car parking space to create six cycle parking spaces. This innovative, public rental scheme – where Councils own and Cyclehoop install and manage the units – has transformed London. A city where bike theft is immeasurably prominent, cycle parking that is secure and convenient is possible. To date Cyclehoop have created 8,694 Bikehangar® cycle parking spaces across London and incredibly there is a waiting list of over 20,000 people.
For transport of new equipment, Cyclehoop run a fleet of vans crewed by installation operatives who are equipped with rugged tablets for job reporting. Maintenance operatives meanwhile get around on bicycle and use smartphones to manage their work.  Both access the JobWatch app for communication and reporting with the office in real time.                
Tsui explained:
"As well as designing innovative cycle parking equipment and infrastructure, Cyclehoop are very much a service company. We set high quality standards to make sure all installations are safe, secure, fully working and in good condition. With BigChange we can manage our services effectively as well as measuring and managing our internal KPI's,".
Cyclehoop like the fact JobWatch is easy to use and operatives can self-learn negating the need for training.   Operatives sign onto JobWatch to receive their jobs and the app can then provide navigation to site.  On arrival, the relevant job sheets and workflows are accessed.  The devices are used to photograph the site and equipment to record before and after repair work or any issues preventing job completion, such as a vehicle parked in the planned installation space.
Cyclehoop's operations are very location specific and back at the office the BigChange software utilises Google Maps to show site and real-time operative locations, providing a live view of work in progress with reports highlighting any incomplete jobs. Cyclehoop's clients can also access Job Sheets to see that work has been completed. 
With GPS tracking Cyclehoop can always know where their mobile resources are.  
Tsui continued:
"We can now respond dynamically and that's had an enormous impact on our productivity. It is a very fluid situation on the ground and the more adaptable we are, the more we can do. We can assign and reassign jobs on the fly to reduce idle time; that's not only good for our operatives but also means we can be highly responsive to customer service requests."
BigChange has also eliminated a lot of wasted management time by making key information easy to access.  Managers also worry less about customer service issues as the system provides a complete proof of service and the customer is provided with all the information they need.
Tsui conscluded:
"JobWatch allows us to take on more work by simply adding another van and crew; we don't need more resource in the office. That means we can scale up the business – we are no longer restricted by overloaded administration and paper. We also like the fact BigChange is a very open company and we've found the RoadCrew support very good."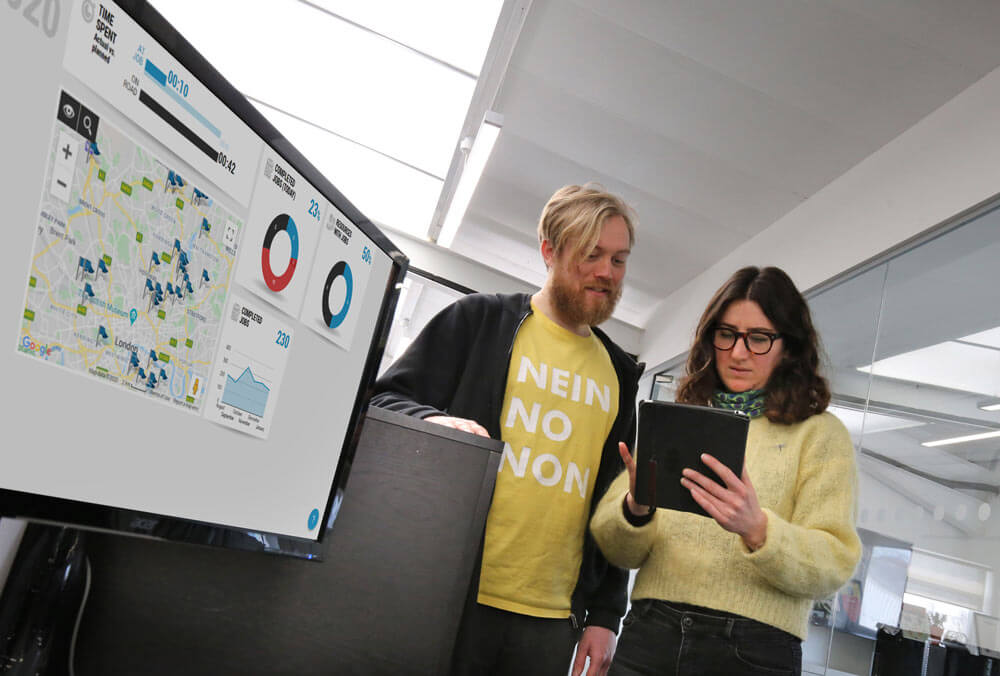 Read Next