BigChange cleans up with a 130 vehicle roll out for LPW Mobile Fleetwash
Back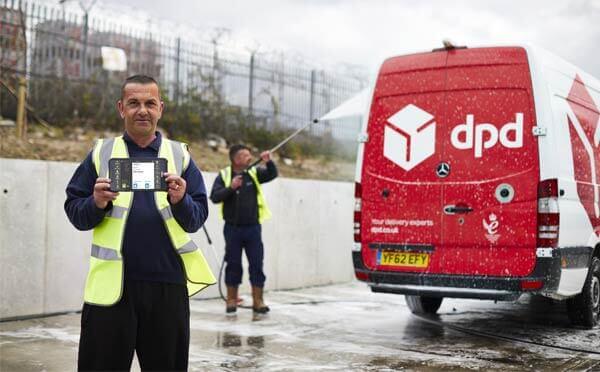 The UK's leading Commercial Vehicle Cleaning company LPW has rolled out BigChange's 3-in-1 JobWatch system across its 130-strong fleet.
Their Mobile Fleetwash units provide convenient on-site cleaning for thousands of vehicle operators across the country including DPD, Maritime Transport, Tesco, Sainsbury's and XPO. The all-in one JobWatch system from BigChange combines a back-office CRM system (linked to Sage 200) with job scheduling, an Android mobile app for mobile washing technicians and real-time GPS tracking of all vehicles in the fleet.
Founded in 1972, LPW have been making vehicles shine for more than 45 years and have grown to dominate the UK's commercial vehicle cleaning market. Innovations such as the company's Mobile Fleetwash division have brought clients the added convenience and flexibility of on-site cleaning with state of the art washing equipment and detergents. Cleaning in excess of 20,000 vehicles per week, the company identified the need to switch to a paperless and seamless approach to planning, managing and scheduling jobs, giving customers a single point of contact and the ability to make booking as easy as possible. After evaluating a number of software vendors, LPW chose JobWatch from BigChange.
The JobWatch system has revolutionised the booking and scheduling process, connecting the contact centre with mobile washing technicians in real-time. Integrated CRM ensures a single unified view of the customer across their multiple sites and individual vehicles. This has given customers a true view of cleaning KPIs and allows effective management of their cleaning plan. Intelligent scheduling allows advisers to quickly offer customers cleaning slots at a time and date to suit them, taking into account real-time technician and equipment availability, proximity to the customer and live traffic data. The intelligent scheduling engine ensures maximum flexibility for the customer whilst minimising travel time and distance, driving fuel savings and a reduction in emissions. Real-time visibility of the operation ensures contact centre advisors are empowered to answer customer questions in an instant, and automated estimated time of arrival (ETA) alerts by email and text message ensure customers are always fully informed.
BigChange technology is saving LPW hundreds of thousands of pieces of paperwork annually, replacing manual paper job-cards with electronic workflows running on a rugged waterproof Samsung Android Tablet used by each technician. Each day, technicians complete an electronic walkaround check, logging and photographing any defects that are managed to resolution via integrated fleet management functionality. On starting their timesheet, technicians have instant access to their jobs for the day with detailed information about each customer, site and vehicle. Job data is automatically loaded into the integrated sat-nav with turn-by-turn guidance and live traffic updates. On arrival, the app ensures technicians wash the correct vehicles and keeps a detailed audit trail of work completed on each car, van or truck. Photos can be captured before and after the washing process for added proof of service. On completion, customers automatically receive electronic job-cards via email, proactively confirming completion. This instant sync with the back-office means no 'paperwork' needs to be returned for processing and allows LPW to invoice immediately from the JobWatch system.
Daniel Woods, Group IT Director at LPW Europe commented:
"The BigChange system has been a game-changer for us. Our entire team is now seamlessly connected on one single cloud based platform and the technology is supporting our growth plans. Scheduling on-site visits to clean over 20,000 vehicles per week was proving to be a real logistical challenge but this scalable system is ensuring we can deliver a dependable and high-quality service that can be delivered at competitive cost for our clients."
NOTES TO EDITORS
For further information please contact:
BigChange Apps: Martin Port, [email protected],
tel +44 (0)113 457 1000
Reader enquiries: email:[email protected], phone +44 (0)113 457 1000, www.bigchange.com
About BigChange
BigChange by name, BigChange by nature! BigChange is an established force in mobile workforce management and telematics, offering a system that transforms the way companies manage their mobile operations.
JobWatch from BigChange is the paperless way to plan, manage, schedule and track a mobile workforce. This powerful all-in-one Mobile Workforce Management platform combines back office software, mobile apps, fleet management and real-time vehicle tracking in one simple to use system. Using JobWatch, customers can manage their entire operation, from quote all the way through to invoice.
About LPW
LPW is the UK's largest commercial vehicle cleaning company. They offer a fixed site cleaning services at Truck stops around the country, a Mobile on-site cleaning service nationwide and also sell vehicle cleaning products ranging from jet washes and detergent to ancillary products such as screenwash and other cleaning products. They work with their clients to find the best solution for cleaning their fleets and keeping their clients brands well represented on the UK's roads.
For more information please visit https://www.lpweurope.com/.
Read Next