BigChange Brings Real-Time Visibility to SYNETIQ Transport Operations
Back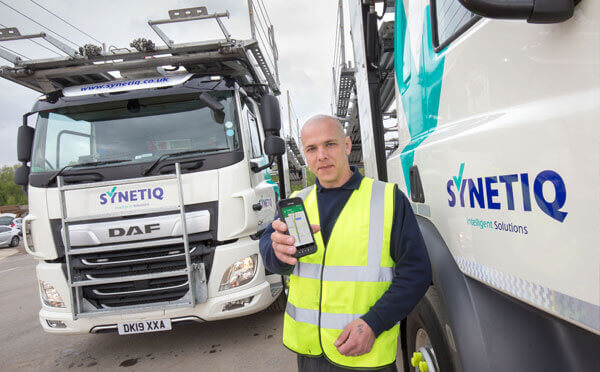 SYNETIQ, the largest vehicle salvage and recycling company in the UK, has introduced a high tech system from Leeds-based BigChange that provides real-time 24/7 visibility of its collection and delivery operations.
SYNETIQ operates over 16 sites around the country and processes in excess of 100,000 vehicles per year. The new system combines mobile apps and vehicle tracking software integrated with SYNETIQ's own salvage IT systems.
SYNETIQ, which was formed following the merger of Motorhog, Car Transplants, DH Systems and Fab Recycling. The Doncaster-headquartered company works with a number of Insurance companies, police forces and fleet management companies to collect and process written-off and unroadworthy vehicles from around the UK operating a fleet of 97 car transporters with 20 vans for transporting parts.
SYNETIQ now owns its specialist IT system, Frontier, and this is being enhanced with the mobile computing and real-time communications provided by JobWatch, the BigChange 5 in 1 mobile app.
Jason Cross, Business Development Director at SYNETIQ, says:
"With various company acquisitions and our growth plans for the business we knew our transport management system needed an overhaul as it was just not flexible enough to meet our needs,"
"It soon became clear that BigChange offered the best solution – not just through the very flexible JobWatch platform but also as a company willing to engage with us and provide integration with our Frontier IT system."
SYNETIQ drivers run the JobWatch app on their smartphones and details for collections and deliveries are received on their phones. The app completely eliminates paperwork with on screen data entry of vehicle safety checks, vehicle collection appraisals and customer sign-offs. SYNETIQ particularly like the fact that JobWatch is an all-in-one system that can be easily adapted as their particular requirements called for a bespoke solution.
Tom Moore, Transport Manager, SYNETIQ, says:
"JobWatch makes it much easier to manage our often complex transport operations and the integrated live tracking and paper-free reporting has transformed the way we work,"
"The ease with which JobWatch can be adapted is particularly impressive. We can now simply drag and drop jobs into routes upfront or on the fly and driver check reports can be easily customised for our mixed fleet."
As SYNETIQ's customers include major insurance companies accurate, consistent reporting is crucial. JobWatch has been configured to handle vehicle appraisals, both those undertaken on collection and more detailed appraisals on arrival at the SYNETIQ yard. The JobWatch app includes the required damage diagrams and record-linked photographs.
Cross explains:
"We needed to provide our insurance customers with a perfect solution and BigChange gives us that important capability. JobWatch makes it much easier to manage the business; it's easy to track our vehicles, add and remove jobs on the fly and get up to the minute images and signature of vehicles and parts being delivered,"
Crucially, we can further integrate with Frontier for seamless working across both vehicle collection logistics and parts delivery logistics and it is all backed up with a fast and efficient service from BigChange.
In terms of tangible benefits SYNETIQ is already seeing important returns according to Cross.
"JobWatch certainly allows for better visuals on safety for drivers – working hours, breaks and mileage for example – and we have been able to track average delivery costs and try and reduce by smarter routing and utilisation; ultimately it will make us more efficient and safer."
Read Next