6 ideas for your 2023 job management approach
Back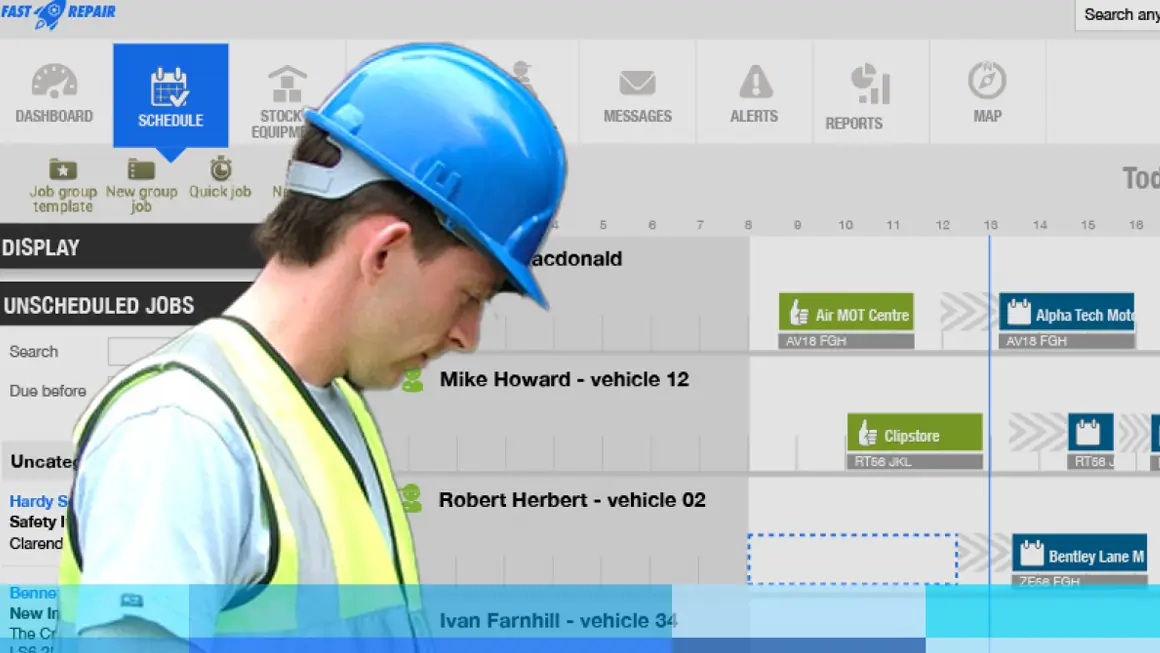 In the fast-paced field service industry, everything revolves around how quickly engineers, back-office staff, and other team members can get the job done, and get it done right.
That's why we expect 2023 to place even more emphasis on speed, accuracy, automation, and quality.
To help you achieve just this, this blog looks at six ideas for your job management approach in 2023.
But first, let's look at what's driving change. 👇
Why job management is set to change in 2023
There are two drivers prompting a need for immediate change in field service management:
Changing customer expectations
Economic challenges
Changing customer expectations
Across all industries, customer expectations are high. Field service businesses are no different:
Customers now expect better communications. In fact, 75% of customers think that fast response times are the most important part of the customer experience.
But those that do prioritise customer service actually enjoy 5.7 X more revenue than those that don't.
Economic challenges
The aftermath of the pandemic, heightened fuel costs, supply chain issues and sky-rocketing utility bills are just a few of the challenges facing businesses in 2023.
The bottom line? These challenges slow down operations, reduce cash flow, and severely impact profit margins.
While this may paint a doom and gloom picture, it can be an opportunity for growth too.
In fact, the past 12 months have seen more field service management businesses innovating and accelerating the use of new ways of working than ever before.
Let's dive into some examples of how.
6 ideas for your 2023 job management approach
Here are just a handful of ways that field service businesses are maximising operations and boosting customer experiences, that we expect to continue throughout 2023:
Job management idea #1: Improve time management
When managing a field service business, managing time properly is everything. After all, poor job scheduling can lead to poor customer experiences, damaged reputations, and lost clients.
What's more, it impacts your profits. Low engineer productivity and available engineers not being assigned to jobs = missed income opportunities.
On the flip side, it's not great for your engineers' morale or job satisfaction if they become overloaded due to poor job management either.
Actionable tips:
💡 Plan ahead. Think about jobs as a whole, not just the resourcing of them. For example: What parts or equipment will be needed? What are their lead times?
💡 And avoid using too many manual and paper-based processes in your day-to-day workflows.
Job management idea #2: Schedule routes more efficiently
With pump costs set to continue to be high in 2023, finding ways to reduce fuel costs will be key to cost savings. But also, it prepares field service businesses for meeting government requirements on reducing carbon footprint.
Actionable tips:
💡 Go digital. A digital scheduling assistant can help get the right engineer, with the right skills, to the right place, by the right route, and streamline job management.
💡Monitor your team's driving behaviour. With tools like BigChange, managers can set driving behaviour alerts and view driver data, in order to curb idling, speeding, and harsh acceleration.
Not only does this keep your people safe on the road, it also cuts fuel costs and emissions. For instance, driving at 55mph uses 25% less fuel than driving at 70mph.
Job management idea #3: Improve engineer and back-office communication
With the majority of field service workers being out in the field, creating a collaborative work environment with healthy communication can be difficult. Yet immensely important. Your workers can only be as successful as the information they have access to.
Actionable tips:
💡 Provide your team with field service management software that has real-time data to resolve any communication challenge in one fell swoop.
💡 Use a tool that plugs into accounting software so you can quickly invoice once a job is complete.
💡 Leverage a strong CRM system that's mobile so that all customer interactions are stored in one place and everyone can quickly access them when speaking to a customer.
Job management idea #4: Make use of the right software and tools
If you are in the field service management industry, one of the main causes of reduced performance could solely be the tools you are working with.
Actionable tips:
💡 Consider whether the software tools you use have the capacity and features you need to achieve your goals in 2023. You may need a more comprehensive platform as your business grows and changes.
💡 If you're using several tools, spreadsheets, and manual methods, consider switching to an all-in-one solution to manage every area of your field service business. If you've a range of tech-abilities within your business, it's easier for people to learn and manage a single platform.
Job management idea #5: Empower mobile engineers
Field service engineers are the face of your company. Their capabilities on the job are critical to make or break the customer experience.
That's why they need the right information, the right tools, and the right parts to do the job to a high standard, and the first time they attend the site. This is where digital solutions come in.
Actionable tips:
💡Job management software, mobile apps, and the right tablet are just some of the tools that simplify and speed engineers in the field – ensuring responsiveness, continuity of service, resolving issues sooner, and making them more productive and cost-effective.
💡 Be prepared to react on the go. These tools also allow you to make the most of opportunities when in the area, or to add additional jobs for the customer whilst on site, to maximise efficiency and ensure correct billing.
Job management idea #6: Consider planned preventative maintenance
Unplanned downtime can cost companies hundreds of thousands of pounds. That's why it's critical to ensure equipment functions at optimal performance levels, at all times.
Here are ways field service businesses tackle vehicle maintenance but you could apply this approach to machinery and client systems — client maintenance may be essential for compliance and legal requirements so this is one you can't ignore!
Actionable tips:
💡 Engineers could complete daily vehicle checks and record results on their mobile or device. These reports help fleet managers spot problems before they become a major, costly problem or stop the vehicle being on the road, potentially putting engineers out of action.This prevents the need to hire vehicles or jobs need rescheduling.
💡 With some tools, you can also set alerts against any defects so that the fleet manager can immediately action them and keep the driver informed at the same time.
What's more, it also reduces safety risk to your engineers. And can save on fuel costs. Did you know, tyres are responsible for around 20% of a vehicle's fuel consumption?
Key takeaways
With these job management ideas, hopefully you can see exactly how you can improve operations, boost efficiency, and ultimately book in more customers. Of course, this all supports better cash flow and increased revenue.
💡Final tips
Set time aside in the day to check job progress and team updates.
Use a job management tool to track jobs, vehicles, and more.
Update your website with any new testimonials and case studies.
Work with the most accurate and up-to-date information to make real-time decisions
Listen to what workers are saying – get feedback from them on how processes can be improved.
Your next steps
Ready to take job management digital? If you're in the market looking for a job management software solution to do all the heavy lifting, check out this blog first: Top 5 must-haves when choosing job management software.
Add BigChange to your shortlist. And see why hundreds of field service businesses choose us by booking a personalised demo right here.
Read Next